International Shawarma Day
International Shawarma Day is held on February 13. Since 2011. This event in the second decade of the month February is annual.
Help us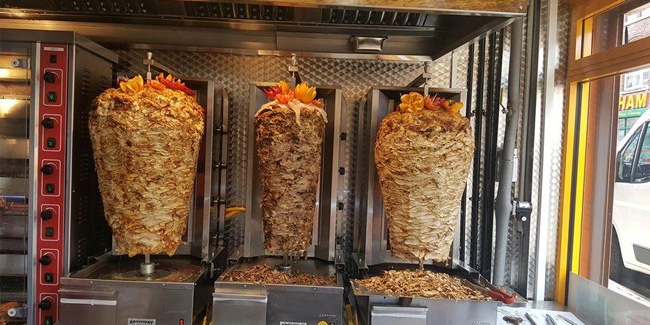 Shawarma is a Levantine Arab dish consisting of meat cut into thin slices, stacked in a cone-like shape, and roasted on a slowly-turning vertical rotisserie or spit. Originally made with lamb, mutton or chicken, today's shawarma may also be turkey, beef, or veal. Thin slices are shaved off the cooked surface as it continuously rotates. Shawarma is one of the world's most popular street foods, especially in Egypt, the countries of the Levant, and the Arabian Peninsula.
Similar holidays and events, festivals and interesting facts

Cream Bun Day in Iceland on February 12
(celebrated on Monday before Ash Wednesday, Bolludagur);

National Frozen Yogurt Day in USA on February 12
(Held on the second Tuesday of February);

National Plum Pudding Day and National Biscotti Day in USA on February 12
;

European Epilepsy Day on February 12
;

International Epilepsy Day on February 12
(every year on the second Monday of February people join together to celebrate IED);

National Tortellini Day and National "Italian Food" Day in USA on February 13
;

National Pancake Day in Netherlands on February 13
(Nationale Pannenkoekdag - Tuesday before Ash Wednesday);

Holiday of wine-growers or St. Trifon's Day in Bulgaria on February 14
(known as St. Trifon Zarezan - Trifon the Pruner);

National Cream-Filled Chocolates Day in USA on February 14
;

Chocolate Day in Ghana on February 14
;

International Book Giving Day on February 14
;

International Heart Awareness Day on February 14