National Rubber Day in Thailand
National Rubber Day in Thailand is held on April 10. วันยางพาราแห่งชาติ - Adopted 21 December 2004. This event in the first decade of the month April is annual.
Help us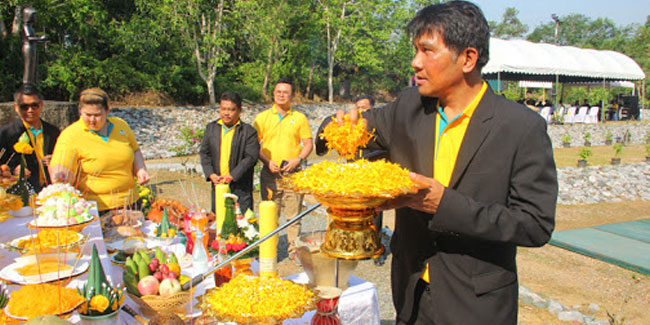 Natural rubber comes from the sap of the Hevea Brasiliensis tree. It takes six years before trees can produce sap – they are then productive for around 28 years. A typical tree can produce 19 pounds of rubber each year.
It has excellent tensile, elongation, tear resistance and resilience. It has good abrasion resistance and excellent low temperature flexibility. Without special additives, it has poor resistance to ozone, oxygen, sunlight and heat. It has poor resistance to solvents and petroleum products. Other products made of natural rubber are e.g. mattresses, condoms, shoe soles, hot water bottles, balloons, rubber boots and seal rings.
Since rubber was first introduced to Thailand in the early 1900s, the country has grown to become the world's number one producer and exporter of natural rubber due to its tropical climate as well as effective and advanced cultivation methods.
National Rubber Day was established in 2004 at the initiative of the Department of Agriculture and Cooperatives, and the first celebration took place on April 10, 2005.
Similar holidays and events, festivals and interesting facts

Royal Thai Air Force Day in Thailand on April 9
;

Songkran in Thailand, Laos, and Nepal on April 13
(Thai New Year, a New Year festival celebrated April 13-15);

Thai New Year or Songkran in Thailand on April 13
;

King Naresuan Day in Thailand on April 25
;

Consumer Protection Day in Thailand on April 30
(since 1980);

Coronation Day in Thailand or Wan Chattra Mongkol on May 4
;

Thai Buffalo Conservation Day on May 14
(Adopted 7 March 2017)