Aromanian National Day
Aromanian National Day is held on May 23. This event in the third decade of the month May is annual.
Help us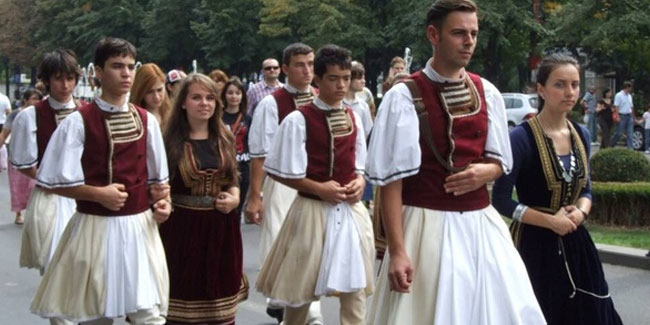 As Aromanian associations and organizations declared in 1991, its day of observation is 23 May as this was the day in which it was announced that the Sultan of the Ottoman Empire Abdul Hamid II had recognized the "Ullah Millet" ("Vlach Millet") for the Aromanians a day earlier in 22 May 1905. This was done with the help of Romania and external powers, notably Austria-Hungary and the German Empire, and its recognition granted them the right to have their own church and to have more autonomy over education. The holiday is sometimes celebrated on 22 May instead. This date for the recognition of the Ullah Millet may have been chosen so it coincided with the anniversary of the Romanian Declaration of Independence.
Similar holidays and events, festivals and interesting facts

European Natura 2000 Day on May 21
;

European Siblings' Day on May 31
;

Trianon Treaty Day in Romania on June 4
;

Teachers' Day in Romania on June 5
;

Romania Flag Day on June 26
;

Navy Day in Romania on August 15
;

Feast day of the Assumption of Mary on August 15
(Christian feast day, one of the Catholic holy days of obligation a public holiday in Austria, Belgium, Benin, Bosnia, Burundi, Cameroon, Chile, Colombia, Croatia, Cyprus, France, Germany, Greece, Guatemala, Hungary, Italy, Ivory Coast, Lebanon, Liechtenstein, Lithuania, Luxembourg, Macedonia, Madagascar, Malta, Mauritius, Monaco, Paraguay, Poland, Portugal, Romania, Senegal, Seychelles, Slovenia, Spain, Switzerland, Togo, and Vanuatu)