Exposicion Rural Argentina or La Exposicion Rural
Exposicion Rural Argentina or La Exposicion Rural is held on July 19. This event in the second decade of the month July is annual.
Help us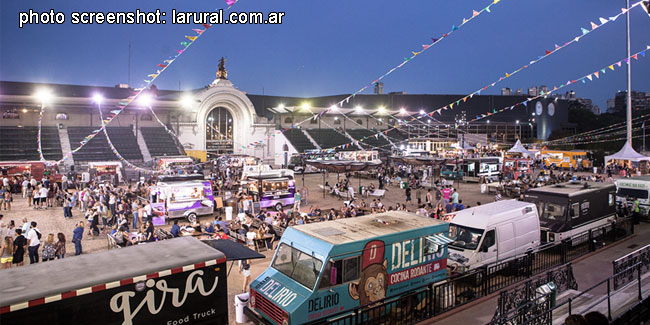 The event is organised by The Argentine Rural Society (La Sociedad Rural Argentina) and both the Exhibition and the Society are known locally as La Rural.
The exhibition has taken place in the society's Santa Fe Avenue exhibition centre and fairground, each year in July since 1886.
The Society was founded on 10 July 1866 by Eduardo Olivera and José Martínez de Hoz with the motto 'To cultivate the soil is to serve the country', and was formerly known as 'El Solar de Palermo'.
Built in the 1870s, the Society's showground features a Belle Epoque stadium and a modern exhibition hall. During the rest of the year, the exhibition hall is used for other events including trade shows.
The Opera Pampa organises shows in the stadium, showcasing the history of Argentina with zamba dances and an asado in the dining rooms.
Today La Rural is the main center for fairs, congresses, conventions and events in Argentina and the leading company in the fair industry in Latin America.
Source: wikipedia.org | larural.com.ar
Similar holidays and events, festivals and interesting facts

Hot Dog Day on July 18
(United States, Canada, Great Britain and Australia. It has been celebrated since 1971, when students first proposed it. Hot Dog Day itself is usually the third Saturday in April, although many students celebrate the entire "hot dog week", running from that Wednesday to that Sunday. July 18 – based on when the North American Meat Institute hosts its annual Hot Dog Lunch on Capitol Hill.);

National Caviar Day in USA on July 18
;

National Daiquiri Day in USA on July 19
;

National Hot Dog Day in USA on July 19
(While it's unclear exactly when the hot dog was invented, many people attribute it to sausages developed during the 13th century in Germany);

International Cake Day on July 20
;

National Lollipop Day and Fortune Cookie Day in USA on July 20
;

National Junk Food Day and National Ice Cream Day in USA on July 21
;

International Day of Junk Food on July 21
;

International Lamington Day on July 21