International Traffic Lights Day
International Traffic Lights Day is held on August 5. This event in the first decade of the month August is annual.
Help us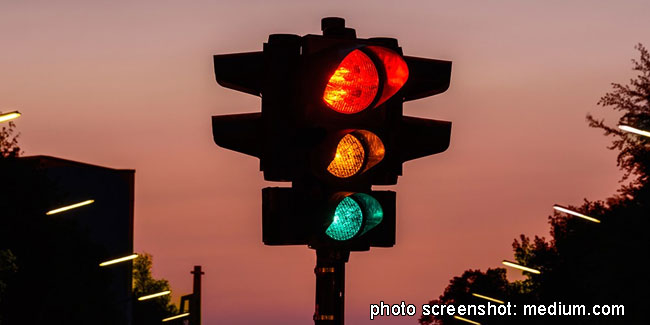 The American Traffic Signal Company installed a traffic signal system on 5 August 1914.
According to AAA, the average American spends 58.6 hours each year waiting at red lights. Founded in 1947, the AAA Foundation for Traffic Safety is dedicated to saving lives by preventing traffic crashes and reducing injuries when crashes occur.
The very first traffic lights were installed in 1868 outside the Houses of Parliament in London and were gas-powered and operated by hand. They weren't a huge success as they exploded, injuring or killing the policeman (history is unclear as to the extent of his injuries) operating them. In 1912, Lester Wire, a Salt Lake City police officer, developed an electronic "flashing birdhouse" traffic signal. The first electric traffic lights were installed at a four-way junction in Cleveland, Ohio in 1914 and were, again, operated by a police officer. Fully automatic traffic lights were first used in London at Piccadilly Circus in 1926.
The use of red and green signals had been used on the railways for years, so it made sense to extend their use to the road network too. The trouble was that the two-light system didn't give drivers any warning, and accidents were common on congested city roads.
The amber light was first added in 1920 in Detroit to give drivers a warning that the lights were due to change. Their use was quickly rolled out worldwide as the number of accidents dropped sharply wherever they were installed.
Similar holidays and events, festivals and interesting facts

International Beer Day on August 4
(is a celebration on the first Friday of every August founded in 2007 in Santa Cruz, California by Jesse Avshalomov);

World Oyster Day on August 5
;

International Assistance Dog Week on August 6
(Starts on First Sunday in August);

International Forgiveness Day on August 6
;

Hiroshima Peace Memorial Ceremony on August 6
(Hiroshima, Japan);

International Cat Day on August 8
;

International Female Orgasm Day on August 8