Tell a Lie Day
Tell a Lie Day is held on April 4. This event in the first decade of the month April is annual.
Help us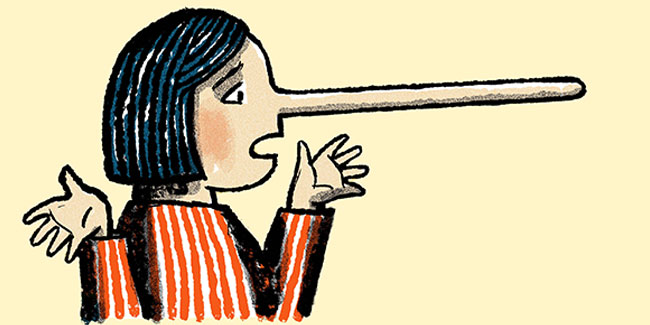 According to U.S. News, people lie way more in writing than face-to-face. We lie most on e-mails, then in chats or text messages, and the least in person. In writing, you don't have to worry about mannerisms, and it's just less personal and guilt-inducing.
Why is it OK to lie? Lying is OK in two general situations, to protect yourself or someone else from immediate danger — e.g., your friend's abusive spouse asks if you know where your friend is — and to protect someone's feelings.
This is a controversial opinion. We still recommend that you avoid telling an untruth. It is better to remain silent!
Similar holidays and events, festivals and interesting facts

Don't Go to Work Unless it's Fun Day on April 3
;

Find A Rainbow Day on April 3
;

Tweed Day on April 3
;

Birthday barcode on April 3
(1973);

Mobile Phone Day on April 3
;

World Rat Day on April 4
;

Vitamin C Day on April 4
;

Hug a Newsman Day on April 4
;

Walk Around Things Day on April 4
;

Go For Broke Day on April 5
;

Read a Road Map Day on April 5
;

Walk to Work Day on April 5
;

National Dandelion Day in U.S. on April 5
(unofficial holiday)