National Red Ribbon Week in USA
National Red Ribbon Week in USA is held on October 23. It is the oldest and largest drug prevention program in the nation reaching millions of young people. This event in the third decade of the month October is annual.
Help us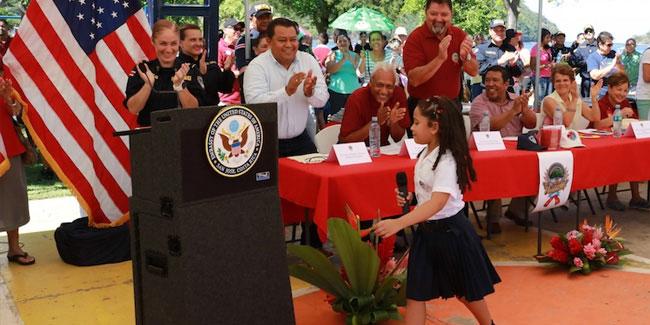 Red Ribbon Week is designed to help parents and schools deliver an effective drug prevention curriculum. Red Ribbon Week is designed to create critical mass, which is necessary to reduce destructive social norms/behaviors and promote positive social norms/behaviors.
Red Ribbon Week started after the death of Drug Enforcement Administration Special Agent Enrique "Kiki" Camarena, who in 1985 was brutally murdered by drug traffickers he was investigating in Mexico. After his death, people wanted to honor his sacrifice.
In response to the murder of DEA Agent Enrique Camarena, angered parents and youth in communities across the country began wearing Red Ribbons as a symbol of their commitment to raise awareness of the killing and destruction cause by drugs in America. In 1988, NFP sponsored the first National Red Ribbon Celebration.
Similar holidays and events, festivals and interesting facts

Teachers' Day in Chile on October 16
(Día del Docente or Día del Profesor);

National School Bus Safety Week in USA on October 16
(Held during the third full week of October each year, National School Bus Safety Week is an active and evolving public education program and an excellent way for parents, students, teachers, motorists, school bus operators, school administrators, and other interested parties);

Teacher's Day in Australia on October 27
(Date for 2023. celebrated on last Friday in October);

National Education Day in Ecuador on November 13
(established by National Decree No. 3290 of November 7, 2002);

Educational Support Professionals' Day in US on November 15
(or National Education Support Professionals Day on third Wednesday of November);

National Parent Involvement Day in USA on November 16
(third Thursday of November. The day provides a yearly opportunity for schools and families to honor and highlight the powerful contributions parents and caregivers provide at school and home to support student success);

Substitute Educators' Day in USA on November 17
(is a initiative of the National Education Association Representative Assembly's New Business Item)