Rakfisk Festival in Fagernes, Norway
Rakfisk Festival in Fagernes, Norway is held on October 31. The Norwegian Rakfisk Festival in Fagernes is all about a semi-fermented trout called rakfisk, that has a unique flavor thanks to its long fermenting process. This event in the third decade of the month October is annual.
Help us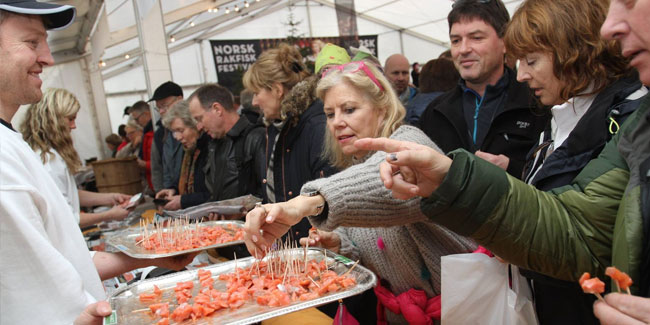 The Norwegian Rakfisk Festival aims to focus on Norwegian food traditions, especially «rakfisk», which is semi-fermented trout. The festival draws more than 25.000 people to Fagernes every year and is, by far, the largest festival in the region and one of the largest food festivals in Norway. Local rakfisk producers as well as producers of many other local products and handicrafts turn the streets into one big marketplace with more than 100 small outlets where you can sample and buy their products. In the evening there are concerts and dancing until the late hours.
The purpose of the Norwegian Rakfisk Festival is to promote Norwegian food culture, especially Rakfisk from Valdres. On the first weekend in November each year, you can experience, among other things, your own tasting tent with a selection of the year's rakfisk.
Similar holidays and events, festivals and interesting facts

Africa Day for Food and Nutrition Security on October 30
;

National Candy Corn Day in USA on October 30
;

National Caramel Apple Day and Candy Apple Day in USA on October 31
;

International Rice Day on October 31
;

National Pâté Day and National Vinegar Day in USA on November 1
;

National Cook for Your Pets Day in US on November 1
;

International Xinomavro Day on November 1
;

National Eating Healthy Day in USA on November 1
;

National French Fried Clam Day in USA on November 1
;

National Sushi Day in USA on November 1