Republic Day in Neuchâtel, Switzerland
Republic Day in Neuchâtel, Switzerland is held on March 1. It is a day off for the general population. In 1848, Neuchâtel which had been a principality, declared itself a republic and part of Switzerland. This event in the first decade of the month March is annual.
Help us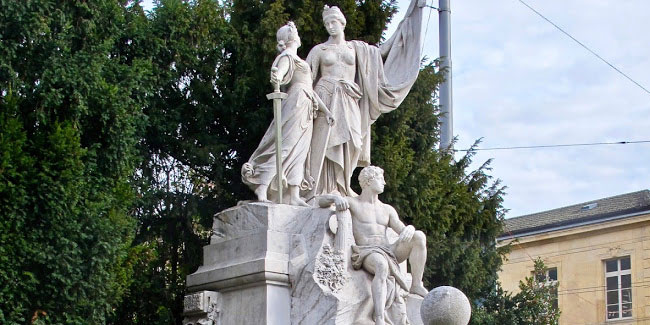 Neuchâtel, (French), German Neuenburg, capital (since 1815) of Neuchâtel canton, western Switzerland, on the northwestern shore of Lake Neuchâtel, at the mouth of the Seyon River, partly on the slopes of the Chaumont (1,087 metres) and partly on land reclaimed from the lake. A Burgundian town by the 11th century, it was chartered in 1214. It was the centre of the former countship and principality (1648–1707) of Neuchâtel.
Historic landmarks include the medieval castle (now the seat of the cantonal administration) and the Collégiale Notre-Dame (12th–13th century), now Protestant and containing the monumental tomb of the counts (1372). There are several fine 17th- and 18th-century patrician dwellings, including the Hôtel du Peyrou (c. 1765) and the town hall (1784–90), which is in classic style. The town's institutions include the University of Neuchâtel (founded as an academy in 1838), the Institute of Physics, the Swiss Laboratory of Horological Research, the commercial school, the conservatory of music, the museum and public library in the Collège Latin, the cantonal observatory, and the fine Musée des Beaux-Arts. The city's manufactures include tobacco products, watches, chocolate, and metal products.
Similar holidays and events, festivals and interesting facts

Vaud Independence Day on January 24
(Switzerland. The canton of Vaud is the third largest of the Swiss cantons by population and fourth by size);

Chalandamarz in Switzerland on March 1
(is a traditional spring festival in Latin-speaking parts of the Swiss canton of Graubünden. It is celebrated on, and named for, the First of March - Calendae Martis - and marks the end of winter);

Novartis Day on March 8
;

Saint Joseph's Day or Father's Day on March 19
(in Andorra, Angola, Spain, Portugal, Italy, Switzerland, Honduras, and Bolivia);

Easter in Western Christianity on March 31
(Første påskedag in Norway);

Poisson d'avril on April 1
(France, Switzerland, French Community of Belgium);

Näfelser Fahrt in Glarus, Switzerland on April 3
(The Battle of Näfels was fought on 9 April 1388 between Glarus with its allies the Old Swiss Confederation, and the Habsburgs. It was a decisive Glarner victory)