Feast of the Three Holy Hierarchs
Feast of the Three Holy Hierarchs is held on January 30. The Orthodox Church, for example, in Greece celebrates the Three Holy Hierarchs: Basil the Great, Gregory the Theologian and John Chrysostom. This event in the third decade of the month January is annual.
Help us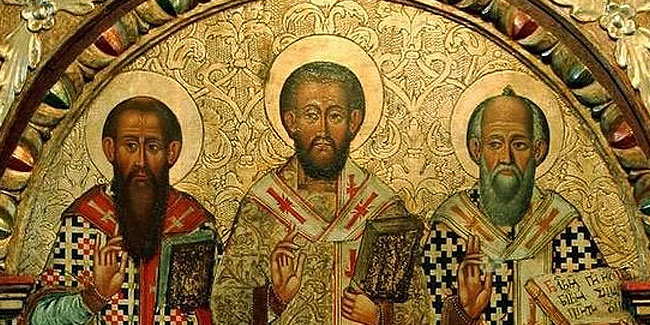 St Basil the Great, St Gregory Nazianzus (aka the Theologian), and St John Chrysostom. These three figures together embody a veritable powerhouse of uncompromising virtue, philosophical acumen, and spiritually edifying eloquence. St Basil was the oldest of the three, attending his classical studies in Athens alongside St Gregory and also alongside Julian, the eventual apostate emperor (knowledge without virtue is dangerous)! In a treatise dedicated to the topic, St Basil defended the reading of pagan Greek literature as an important part of education for Christians; it prepares them for reading the Scriptures, familiarizing them with images of virtuous (and vicious) living, as well as with literary genres and conventions. Julian, meanwhile, realized this, and during his brief reign he forbade Christians from studying or teaching literature.
St Basil also delivered scathing homilies against greed and the hoarding of wealth, and composed rules for monastic life, which filtered into the West via St. John Cassian, where they eventually formed the basis for the monastic rule of St Benedict almost two centuries later.
Similar holidays and events, festivals and interesting facts

The Aporkies festival begins in Patras, Greece on January 17
(Αποκριά takes three weeks. Patras is the largest city and port in the Peloponnese);

Greece Teacher's Day on January 30
;

Engineer's Day in Greece on March 10
(Known across the engineering student community as "Hemera Mihanikou");

Clean Monday on March 18
(also known as Pure Monday, Ash Monday, Monday of Lent or Green Monday, is the first day of Great Lent throughout Eastern Christianity);

Greece Independence Day on March 25
;

Filellin Day and International Solidarity in Greece on April 19
(Decree of the President of Greece 130/2008 on the feast day of George [Lord] Byron);

Motherís Day on May 12
(Anguilla, Antigua and Barbuda, Aruba, Australia, Austria, Bahamas, Bangladesh, Barbados, Belgium, Belize, Bermuda, Bhutan, Bonaire, Botswana, Brazil, Brunei, Canada, Cambodia, Cayman Islands, Central African Republic, Chad, Chile, China, Colombia, Congo, Dem. Rep., Congo, Rep., Cote d'Ivoire, Croatia, Cuba, Curaçao, Cyprus, Czech Republic, Denmark, Dominica, Ecuador, Equatorial Guinea, Estonia, Ethiopia, Faroe Islands, Fiji, Finland, Germany, Gabon, Gambia, Greenland, Ghana, Greece, Grenada, Guyana, Honduras, Hong Kong, Iceland, India, Italy, Jamaica, Japan, Kenya, Latvia, Liberia, Liechtenstein, Macau, Malaysia, Malta, Myanmar, Namibia, Netherlands, New Zealand, Pakistan, Papua New Guinea, Peru, Philippines, Puerto Rico, Saint Kitts and Nevis, Saint Lucia, Saint Vincent and the Grenadines, Samoa, Singapore, Sint Maarten, Slovakia, South Africa, Sri Lanka, Suriname, Switzerland, Taiwan, Tanzania, Tonga, Trinidad and Tobago, Turkey, Uganda, Ukraine, United States, Uruguay, Vietnam, Venezuela, Zambia, Zimbabwe)