Lhabab Duchen or Descending Day of Lord Buddha
Lhabab Duchen or Descending Day of Lord Buddha is held on November 4. Celebrate on the twenty second day of the ninth month of the Buddhist calendar. This event in the first decade of the month November is annual.
Help us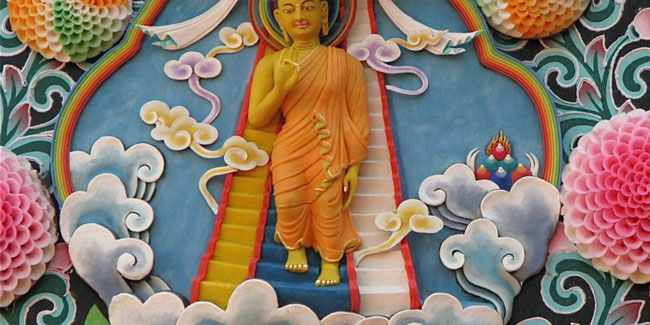 Lhabab Duchen is a Buddhist festival celebrated to observe the Buddha's descent from the Trāyastriṃśa heaven down to earth, one of The Eight Great Events in the Life of Buddha. That would be his second visit on earth from heaven. First, when he was born and second, when he returned to earth after preaching gods and his mother in heaven.
Lhabab Düchen is one of the four Buddhist festivals commemorating four events in the life of the Buddha, according to Tibetan traditions. Lhabab Düchen occurs on the 22nd day of the ninth lunar month according to Tibetan calendar and widely celebrated in Tibet and Bhutan. The festival is also celebrated in other Buddhist Asian countries including Sri Lanka, Myanmar, Thailand and Laos where it is celebrated a few weeks before the Tibetan and Bhutanese version.
Similar holidays and events, festivals and interesting facts

Coronation of the fifth Druk Gyalpo in Bhutan on November 1
(འཇིགས་མེད་གེ་སར་རྣམ་རྒྱལ་དབང་ཕྱུག་ - King Jigme Khesar Namgyel's);

Birthday of King Jigme Singye Wangchuck in Bhutan on November 11
(also Consitution Day);

National Day in Bhutan on December 17
(celebrates its National Day on 17 December, in commemoration of the day in 1907 when Gongsar Wangchuk was crowned the first king over a united Bhutan);

Nyinlong in Bhutan on January 2
(or Winter Solstice. Dzongkha: ཉིན་ལོང་, Wylie: nyin long "return of the sun");

Traditional Day of Offerings in Bhutan on January 12
(celebrated on the first day of the twelfth month of the Bhutanese calendar. In eastern Bhutan, the first day of the 12th Bhutanese month is celebrated as a New Year);

King's Birthday in Bhutan on February 21
(Jigme Khesar Namgyal Wangchuk was born on February 21, 1980);

Birth Anniversary of Fifth Druk Gyalpo in Bhutan on February 21
(celebrated until February 23)