Dashain
Dashain is held on October 21. It is celebrated by the Buddhist, Hindus and Kirats of Nepal and the ethnic Nepali speaking Indian Gorkhas of Darjeeling hills, Sikkim, Dehradun, Kumaun & Gadwal and other North-Eastern states of India and among the Lhotshampa of Bhutan and the Burmese Gurkhas of Myanmar. This event in the third decade of the month October is annual.
Help us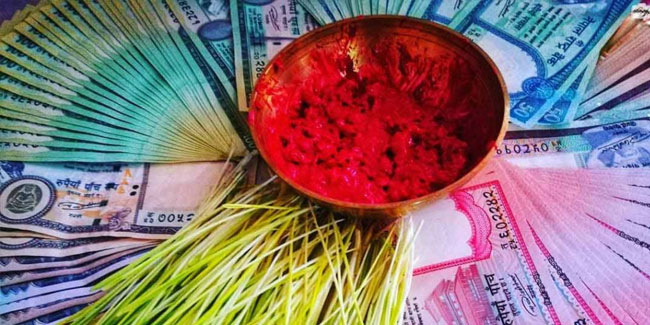 The great harvest festival of Nepal, Dashain is a time for family reunions, exchange of gifts and blessings, and elaborate pujas. Dashain honors the Goddess Durga, who was created out of the shakti or energy of all the gods, armed with weapons from each of them.
Dussehra in Nepal is called Dashain, which is a significant festival for the Hindus in Nepal but is celebrated with the same enthusiasm by people of all faith. Dashain celebrates the victory of good over evil, based on the belief that on this day, the demon Mahishasura was defeated by Goddess Parvati or Durga.
Similar holidays and events, festivals and interesting facts

Nepal Constitution Day on September 20
;

International Nepali Dhoti and Nepali Topi Day on January 1
;

Unity Festival in Nepal on January 11
(in honor of Prithvi Narayan, who laid the foundation for the unification of the first part of the country, the king of which he became in 1768);

Maghe Sankranti in Nepal on January 15
(Sidereal winter solstice celebrations in South and Southeast Asian cultures; marking the transition of the Sun to Capricorn, and the first day of the six months Uttarayana period);

Songkran in Thailand, Laos, and Nepal on April 13
(Thai New Year, a New Year festival celebrated April 13-15);

Nepali New Year, or Navabarsha / Vaishak Ek on April 14
(South and Southeast Asian New Year);

Bengali New Year on April 15
(or Poila Boishakh. Sri Lankans begin celebrating their National New Year)