National Children's Day in Tuvalu
National Children's Day in Tuvalu is held on August 7. Spend on the first Monday of August. This event in the first decade of the month August is annual.
Help us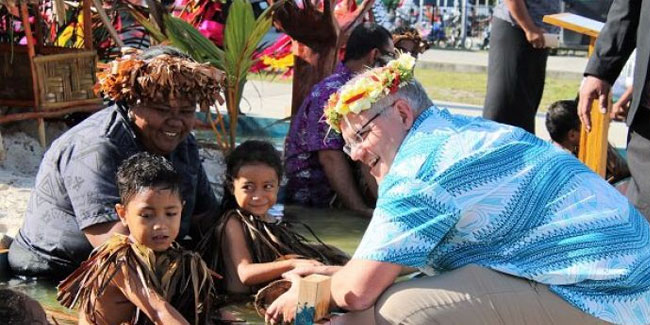 Tuvalu, a state and Polynesian archipelago, is to many people idyllic. But its paradisiacal image differs from the real dangers of climate change. Despite a noticeable improvement of the children's rights situation in the archipelago, it is not yet perfect.
Tuvalu has fewer than 10000 inhabitants, spread over a number of small atolls separated by huge expanses of open sea. The difficulties this creates in terms of providing enough teaching staff, buildings and equipment can be easily imagined. There was six years' compulsory primary education for all children at the country's 12 primary schools, nine of them government-owned and free to parents, the others church-run and charging nominal fees. Until 1991, however, there was only one state secondary school, a boarding establishment on centrally situated Vaitupu island, and only enough places in it for one in four primary school leavers from the whole country.
From day to day, the children of Tuvalu watch their beaches disappear. The waves uproot coconut trees on the islands and the coral reef deteriorates more and more. By 2050, according to some experts, the isles of Tuvalu will no longer exist.
Similar holidays and events, festivals and interesting facts

International Breastfeeding and Lactation Day on August 1
;

Sons and Daughters Day in Germany on August 11
(The Der Tag der Söhne und Töchter a family holiday and a good time to spend time together);

Children's Day in Chile on August 13
(Celebrated on the Sunday of the first full week of August);

Children's Day in Paraguay on August 16
;

Children's Day in Argentina and Peru on August 20
(celebrated on the third Sunday in August);

World Day of Destruction of a Military Toy on September 7
(The 1987 idea of the World Association for Orphans and Children without Parental Care has been celebrated since 1988);

Children's Day in Costa Rica on September 9
(Día del Nińo);

International Day to Protect Education from Attack on September 9