Day of St. Sebastian in Rio de Janeiro
Day of St. Sebastian in Rio de Janeiro is held on January 20. It is celebrated with big festive processions that usually pass the streets of Tijuca, the Center, and the Glory. This event in the second decade of the month January is annual.
Help us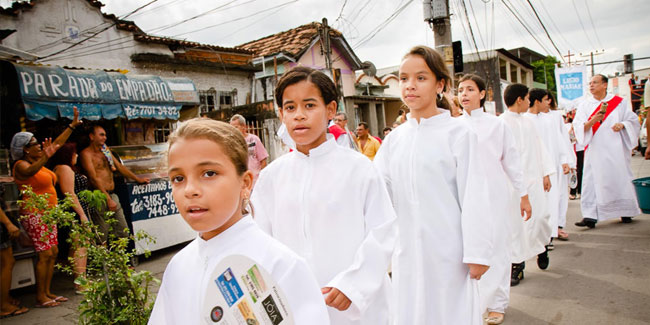 January 20th is the day of Saint Sebastian, patron saint of the city of Rio de Janeiro, and all roads lead to the Basilica, where the main celebrations of the date take place.
According to historians, Sebastian was a Roman soldier, martyred for his faith in Jesus. He was even considered one of Emperor Diocletian's favorite officers, but, denounced for being a Christian, he was sentenced to death. Tied to a tree trunk, he was hit by arrows, but was saved. When he recovered, he again presented himself to the emperor, reproaching him for the injustices committed against the Christians, and received a new sentence for not denying his faith. He was flogged to death on January 20, 288 AD.
Sebastian of Narbonne is also the patron saint of soldiers, besides being considered a protector against hunger, plague, and war. In the religions of the African matrix, in Rio, he is syncretized with the Orixá Oxóssi, lord of hunting and abundance.
Similar holidays and events, festivals and interesting facts

Itaú Unibanco Holding Day on January 1
;

Universal Confraternization Day in Brazil on January 1
;

Day of Saudade in Brazil on January 30
;

Environmental Engineer Day in Brazil on January 31
(Dia do Engenheiro Ambiental);

Our Lady of Navigators in Brazil on February 2
(it is the official day of Iemanja and celebrations take place throughout the city);

Carnival in Rio de Janeiro on February 9
(While carnival is found throughout Brazil, Rio's carnival is one of the biggest, most vibrant and electric to be found);

International Day of the Unborn Child on March 25