Ise Jingū Kannamesai in Japan
Ise Jingū Kannamesai in Japan is held on October 17. October 15–25. This event in the second decade of the month October is annual.
Help us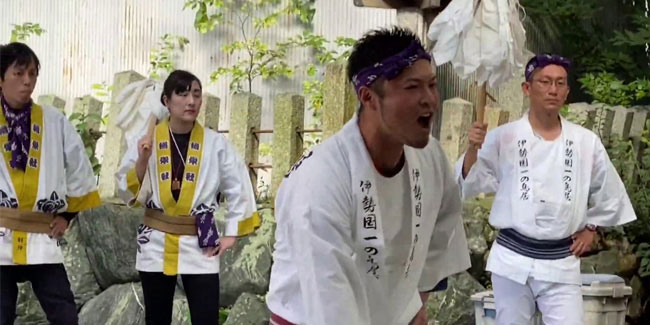 Kannamesai (a.k.a. Kanname no Matsuri, Kannie no Matsuri) is a rite and festival of Ise-jingu Shrine and the imperial court.
It is an imperial grand festival, and a rite to present new grains to Amaterasu Omikami (the Sun Goddess). In the past, sacred sake and food offered to the god was given to an imperial envoy on September 11 (old calendar), and it was presented to the god on September 17 (old calendar). After the change to the solar calendar in 1872, the Kannamesai was also changed to be performed on September 17 on the new calendar, which was too early for the new grain, and therefore it was postponed by one month to be performed on October 17 on the new calendar since 1879.
Japan's most sacred Shinto shrine, Ise Grand Shrine, attracts millions of visitors and pilgrims each year and is considered the nation's spiritual home.
Similar holidays and events, festivals and interesting facts

Doi taikomatsuri in Japan on October 13
;

Jidai Matsuri in Kyoto, Japan on October 22
;

World Karate Day on October 25
;

Prefectural Earthquake Disaster Prevention Day on October 28
(Gifu Prefecture, Japan);

First Love Day in Japan on October 30
(Hatsukoi No Hi);

International Rice Day on October 31
;

Self-Defense Forces Commemoration Day in Japan on November 1
;

Dog Day in Japan on November 1
(Inu No Hi);

Japan Classics Day on November 1