Nagasaki Kunchi Festival
Nagasaki Kunchi Festival is held on October 7. 長崎くんち is a Shinto festival in honor of three kami: Suva, Sumiyoshi and Morizaki. The most famous national festival in Nagasaki, Japan. This event in the first decade of the month October is annual.
Help us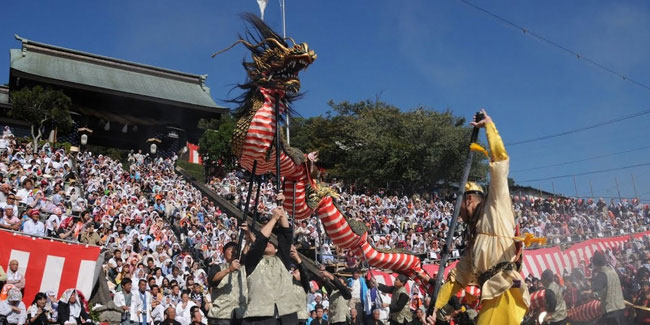 Started in 1634 as an offering at Suwa Shrine and with over 380 years of history and tradition, the Nagasaki Kunchi Festival is one of three of Japan's largest festivals of its kind. It began as a celebration of autumn harvests in the late 16th century and became a shrine festival when Suwa Shrine was founded in 1642.
Taking place every autumn in Nagasaki, Nagasaki Kunchi is a lively festival with an exotic atmosphere that features the dragon dance, many different dances in colorful costumes, and parade floats.
Similar holidays and events, festivals and interesting facts