A Santa di Niolu in Casamaccioli
A Santa di Niolu in Casamaccioli is held on September 8. Corsica, France. This event in the first decade of the month September is annual.
Help us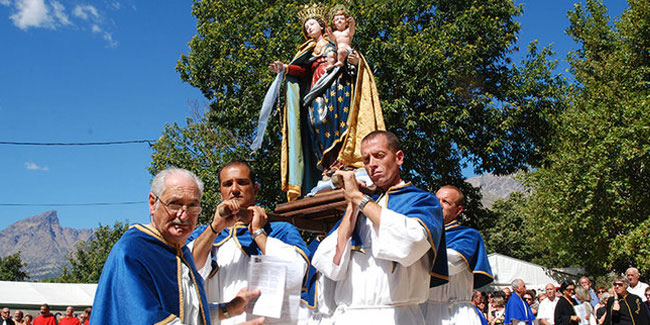 The "Santa" Festival is one of the largest and most important festivals in Corsica. Each year, on the 8th of september, the people gather together to celebrate the Nativity of the Madonna. This tradition, handed down across the centuries, is brought back to life in the little village of Casamaccioli, to the south of the Calacuccia lake. The festival attracts many people to Casamaccioli, up to 10.000 visitors for the three-day event.
The morning begins with a religious service, which is celebrated according to tradition on the square in front of the parish church. The wooden statue of the Virgin Mary is carried out of the church and placed next to an old crucifix in front of the altar.
As soon as mass begins, a group of five men sing the Paghjella, a tradional chant. At the end of the mass a group of men carry the statue of the Virgin Mary round the village square. The Fraternity of Saint Anthony, white robed penitants, forms the granitula, a spiral procession.
Similar holidays and events, festivals and interesting facts