Chih Nu Day in China
Chih Nu Day in China is held on July 7. Also called Zhinu in China, or Kamuhata Hime in Japan. This event in the first decade of the month July is annual.
Help us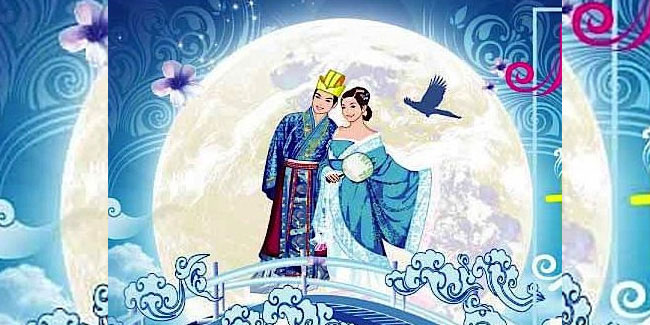 Zhi Nü, Wade-Giles romanization Chih Nü, in Chinese mythology, the heavenly weaving maiden who used clouds to spin seamless robes of brocade for her father, the Jade Emperor (Yudi). Granted permission to visit the earth, Zhi Nü fell in love with Niu Lang, the cowherd, and was married to him. For a long time Zhi Nü was so deeply in love that she had no thoughts of heaven. Finally she returned to her heavenly home where her husband joined her. The emperor, irate that his daughter had neglected her weaving for so long, placed the lovers on opposite sides of the impassable Milky Way. Only once a year, on the seventh day of the seventh lunar month, are they allowed to meet. On that day magpies fly to the Milky Way to form a bridge so that the longing lovers can cross over to renew mutual protestations of their undying love for each other.
Similar holidays and events, festivals and interesting facts

Birthday of the Dalai Lama XIV on July 6
(July 6, 1935);

Armed Forces Day in China on August 1
(or Anniversary of the Founding of the People's Liberation Army in People's Republic of China);

Chinese Valentine's Day on August 22
(Celebrate on the 7th day of the 7th lunar month);

Victory over Japan Day in mainland China on September 3
;

V-J Day in the PRC on September 3
;

Teachers' Day in China on September 10
;

Mid-Autumn Festival or Moon Festival or Mooncake Festival on September 29
(15th day, 8th Chinese lunar month)