National Tree Day in Benin
National Tree Day in Benin is held on June 1. Or Festival of Trees. This event in the first decade of the month June is annual.
Help us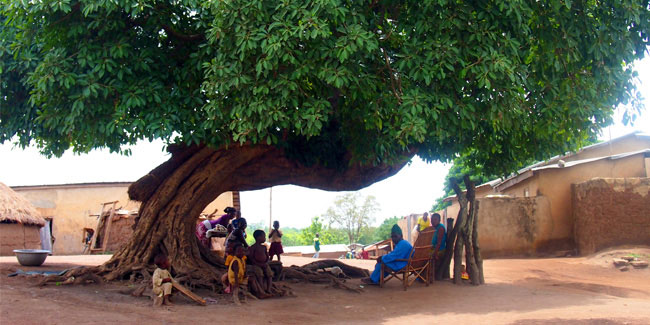 Within the framework of this project and to mark the 1st of June which is the National Day of the Tree in Benin, the NGO SOS Biodiversity in partnership with the NGO GeomaD are organizing a tree planting activity simultaneously on 4 sites in the commune of Abomey-Calavi.
According to studies, 51.54% of the national vegetation cover is dominated by tree and shrub savannahs. From a specific point of view, Benin's flora is rich in 2807 plant species. About 3.77% of the species, that is 106 species are threatened (Vulnerable, Endangered or Critically Endangered).
Similar holidays and events, festivals and interesting facts

Mother's Day in Benin on May 26
(It is celebrated on the last Sunday of May, if the date coincides with the date of Pentecost, then it is transferred to the first Sunday of June);

Feast day of the Assumption of Mary on August 15
(Christian feast day, one of the Catholic holy days of obligation a public holiday in Austria, Belgium, Benin, Bosnia, Burundi, Cameroon, Chile, Colombia, Croatia, Cyprus, France, Germany, Greece, Guatemala, Hungary, Italy, Ivory Coast, Lebanon, Liechtenstein, Lithuania, Luxembourg, Macedonia, Madagascar, Malta, Mauritius, Monaco, Paraguay, Poland, Portugal, Romania, Senegal, Seychelles, Slovenia, Spain, Switzerland, Togo, and Vanuatu);

Armed Forces Day in Benin on October 26
;

National Day in Benin on November 30
;
Traditional Religions Day in Benin on January 10
;

Martyrs Day in Benin on January 16
;

Steppe Day in Ukraine on May 30
(2017);

Honduran Forestry Professional's Day and National Tree Day on May 30
;

National Tree Planting Day in Cambodia on June 1
;

European Bicycle Day on June 3
(celebrated since 1998)