Grandmothers' Day in Germany
Grandmothers' Day in Germany is held on October 8. Second Sunday in October. This event in the first decade of the month October is annual.
Help us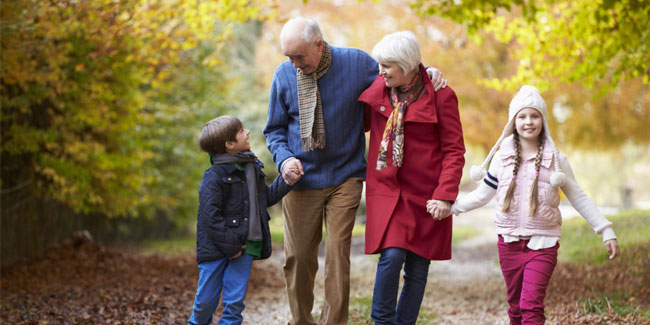 Grandma's Day or Grandmother's Day is a day of honor and remembrance observed in many parts of the world. In Germany it takes place on the second Sunday in October.
The day honors the voluntary and unpaid work in the family as caregivers, cultural mediators and advisors. As a link between the generations, they often organize cohesion and exchange between family members. In order to adequately reward this achievement, Ursula von der Leyen called for an official grandparents' day back in 2008.
The first Germany-wide Grandma-Opa Day was celebrated annually on November 12 in the GDR before the fall of communism in 1989. The idea came from the children's magazine "Bummi".
Similar holidays and events, festivals and interesting facts

National Grandparents Day in Italy on October 2
(La Festa dei Nonni);

Grandparents Day in Hong Kong on October 8
(Celebrated since 1990 on the second Sunday of October);

Grandparents Day in Pakistan on October 8
(Second Sunday in October);

National Father–Daughter Day in the United States on October 8
(on the second Sunday of October);

Bolivian Woman's Day on October 11
(Día de la Mujer Boliviana - the birthday of Adela Zamudio, a national pioneer in the fight against discrimination);

Girl's Day in El Salvador on October 11
(Día de la niña);

No Bra Day on October 13
(On this day women are encouraged to forgo wearing no bra as a means to encourage breast cancer awareness)