Independence Day in Ecuador
Independence Day in Ecuador is held on May 13. In honor of the date of independence from Grande Colombie in 1830. This event in the second decade of the month May is annual.
Help us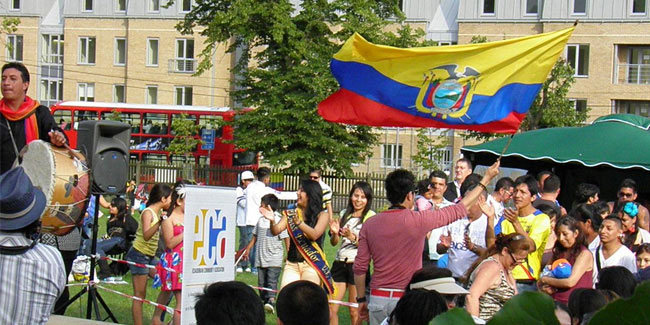 The Ecuadorian War of Independence was fought from 1820 to 1822 between several South American armies and Spain over control of the lands of the Royal Audience of Quito, a Spanish colonial administrative jurisdiction from which would eventually emerge the modern Republic of Ecuador. The war ended with the defeat of the Spanish forces at the Battle of Pichincha on May 24, 1822, which brought about the independence of the entire lands of the Real Audiencia of Quito. The Ecuadorian War of Independence is part of the Spanish American wars of independence fought during the first two decades of the 19th century.
For some eight years it formed, together with what are now the countries of Panama, Colombia, and Venezuela, the confederation of Gran Colombia. But on May 13, 1830, after a period of protracted regional rivalries, Ecuador seceded and became a separate independent republic.
Similar holidays and events, festivals and interesting facts

Motherís Day on May 12
(Anguilla, Antigua and Barbuda, Aruba, Australia, Austria, Bahamas, Bangladesh, Barbados, Belgium, Belize, Bermuda, Bhutan, Bonaire, Botswana, Brazil, Brunei, Canada, Cambodia, Cayman Islands, Central African Republic, Chad, Chile, China, Colombia, Congo, Dem. Rep., Congo, Rep., Cote d'Ivoire, Croatia, Cuba, Curaçao, Cyprus, Czech Republic, Denmark, Dominica, Ecuador, Equatorial Guinea, Estonia, Ethiopia, Faroe Islands, Fiji, Finland, Germany, Gabon, Gambia, Greenland, Ghana, Greece, Grenada, Guyana, Honduras, Hong Kong, Iceland, India, Italy, Jamaica, Japan, Kenya, Latvia, Liberia, Liechtenstein, Macau, Malaysia, Malta, Myanmar, Namibia, Netherlands, New Zealand, Pakistan, Papua New Guinea, Peru, Philippines, Puerto Rico, Saint Kitts and Nevis, Saint Lucia, Saint Vincent and the Grenadines, Samoa, Singapore, Sint Maarten, Slovakia, South Africa, Sri Lanka, Suriname, Switzerland, Taiwan, Tanzania, Tonga, Trinidad and Tobago, Turkey, Uganda, Ukraine, United States, Uruguay, Vietnam, Venezuela, Zambia, Zimbabwe);

World Internet Day on May 17
;

Battle of Pichincha Day in Ecuador on May 24
;

Civil Engineer's Day in Ecuador on May 24
;

National Student Day in Ecuador on May 29
;

Chimborazo Day on June 3
;

Cousin's Day on June 9