Saint Lucia Day
Saint Lucia Day is held on December 13. Denmark, Finland, Norway, Sweden and parts of Italy. Dedicated to Saint Lucia's independence from the United Kingdom in 1979. This event in the second decade of the month December is annual.
Help us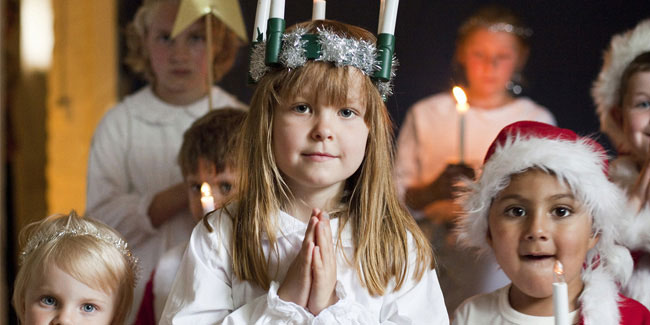 Saint Lucia is an island nation in the eastern Caribbean. On the western coast of the island are the picturesque cone-shaped volcanoes Gro Piton and Petit Piton. The island is famous for its volcanic sand beaches, great diving reefs off the coast, luxury resorts and fishing villages.
On December 13, St. Lucia's Day, the events are celebrated with nougat, crispy pastries, various treats and toys. Traditionally, this day is celebrated as the holiday of beautiful girls: it is they who are given nougat.
Similar holidays and events, festivals and interesting facts

Alfred Nobel Day or Nobeldagen on December 10
(Sweden);

Lucia Festival on December 13
(a tradition that is widespread in the countries of Northern Europe: Sweden, Denmark, Norway);

Birthday of the Queen Silvia in Sweden on December 23
(an official Flag Day);

Christmas Eve in Austria, Denmark, Norway, Sweden, and Botswana on December 24
;

Declaration of Christmas Peace Day in Finland on December 24
;

St. Stephen's Day on December 26
(public holiday in Alsace, Austria, Andorra, Catalonia, Croatia, the Czech Republic, Germany, Hong Kong, Italy, Ireland, Luxembourg, Poland, Slovakia and Switzerland);

Boxing Day on December 26
(Belgium, Fiji, The Bahamas, Guyana, Trinidad and Tobago, Samoa...);

Second day of Christmas on December 26
(Western Christianity. Public holiday in the Netherlands, Poland, Norway)