Feast of St. Vincent in Valencia, Spain
Feast of St. Vincent in Valencia, Spain is held on January 22. Traditionally held mass festivities, costumed processions and a large wine festival. The holiday is celebrated in Saint Vincent and the Grenadines. This event in the third decade of the month January is annual.
Help us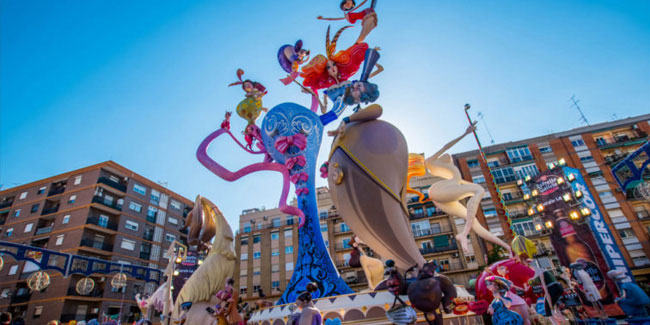 Saint Vincent Martyr is the protector of the city of Valencia. For 5 centuries he was considered the martyr of the West and Valencia became the final destination of the most important pilgrimage route in Europe. January 22 is the date on which the saint is venerated in Valencia. On January 22 is celebrated the feast of St. Vincent Martyr or "de la Roda", patron saint of the city and its municipality (or as they used to say, "de cruces para adentro").
Vincent was a young deacon of the bishop of Zaragoza who, fleeing the persecution of Christians by the emperor Diocletian, was captured in 304 and taken to Valencia, where he was tried and martyred without abjuring his faith, which made him a symbol of Christianization. In the 13th century King James I attributed the successful capture of the city to the saint's intercession and, in gratitude, founded a convent and a hospital, and also recovered other Vincentian places.
The big feast is preceded by the popular recreation of the baptism of St. Vincent Ferrer, a great devotee of St. Vincent Martyr, which takes place on January 22nd. The retinue is made up of characters of the time: the priest, the sacristan, two jurors and the senior juror, the viceroy and the vicereine, the black and black slaves, the father, the comadre with the child, the godmother...
Similar holidays and events, festivals and interesting facts

European Day of Mediation on January 21
;

International Community Manager Day on January 22
(Held on the fourth Monday of January);

International Day of Education on January 24
(3 December 2018 A/RES/73/25. Education is key to sustainable development);

St. Paul Day on January 25
;

Advertising Day in Spain on January 26
(Held on the first working Friday after January 25, or the same day if it falls on a Friday);

World Environmental Education Day on January 26
;

International Conservator Restorer's Day on January 27
;

Fiesta de la Vaquilla in Colmenar Viejo on January 27
(Held on the last Saturday of January)