International Road Maintenance Day
International Road Maintenance Day is held on April 4. #IRMD - first thursday of april. This event in the first decade of the month April is annual.
Help us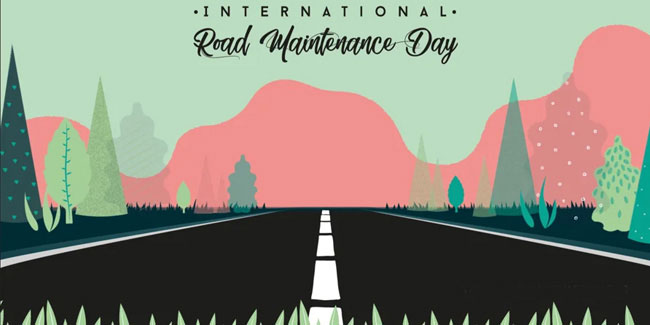 Why is it important to repair the road? Road maintenance is essential in order to preserve the road in its originally constructed condition, protect adjacent resources and user safety, and provide efficient, convenient travel along the route.
The International Road Maintenance Day involves companies, institutions, individuals and the media in its defense of road maintenance, as a key action to protect the environment while contributing to socio-economic development.
In 2018, the International Road Maintenance Day (better known as IRMD) was celebrated for the very first time. Thanks to it, a very interesting and influential breeding ground is being generated to be able to defend the need for preventive conservation, with the consequent reduction in the emissions generated by the vehicles that circulate on our roads.
Similar holidays and events, festivals and interesting facts

World Aquatic Animal Day on April 3
(The first ever annual "World Aquatic Animal Day" took place April 3rd, 2020, with the inaugural theme of the aquaculture industry);

World Party Day on April 3
;

World Rat Day on April 4
;

International Soup Day on April 5
;

International Day of Conscience on April 5
;

Tartan Day on April 6
(Canada and the United States);

International Carbonara Day on April 6
;

Global Teen Health Week on April 6
(is the brainchild of Dr. Offutt);

World Table Tennis Day on April 6
(initiative by ITTF Foundation. Observed since 2015);

Cartoon Day on April 6
;

World Physical Activity Day on April 6
;

International Asexuality Day on April 6
(created by the Association pour la Visibilité Asexuelle. Asexuality is the definition or self-determination of people who are not sexually attracted)