The Aporkies festival begins in Patras, Greece
The Aporkies festival begins in Patras, Greece is held on January 17. Αποκριά takes three weeks. Patras is the largest city and port in the Peloponnese. This event in the second decade of the month January is annual.
Help us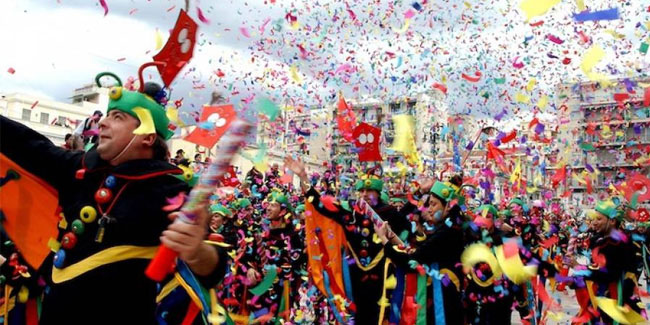 Patras Carnival always begins on 17th January and finishes on Clean Monday. Patras Carnival is not only the biggest carnival in Greece it is also one of the biggest and best carnival celebrations in all of Europe, a period of masquerading, eating, drinking and dancing, which reaches its peak with extravagant parades of giant floats and colorful street groups.
Patras Carnival is the largest carnival event in Greece which celebrates Aporkies. Apokries in Greece is the carnival season.
The first week of the carnival is typically free from fasting up to Meatfare Sunday, which is the last day of meat consumption until Easter. The Thursday preceding Meatfare Sunday kicks off a long weekend of celebration that gives everyone the perfect excuse to get the meat out of their freezers and refrigerators – and is also another excuse to have a party; this Thursday is known as Tsiknopempto -literally Charred, Smoky or Barbeque Thursday- because of the all-pervading scent of grilled meat in the air, as family and friends gather at taverns or backyards to consume generous quantities of meat and celebrate before the beginning of Lent.
Similar holidays and events, festivals and interesting facts

Women's Day in Greece: Gynecocracy on January 8
;

Greece Teacher's Day on January 30
;

Feast of the Three Holy Hierarchs on January 30
(the Orthodox Church, for example, in Greece celebrates the Three Holy Hierarchs: Basil the Great, Gregory the Theologian and John Chrysostom);

Engineer's Day in Greece on March 10
(Known across the engineering student community as "Hemera Mihanikou");

Clean Monday on March 18
(also known as Pure Monday, Ash Monday, Monday of Lent or Green Monday, is the first day of Great Lent throughout Eastern Christianity);

Greece Independence Day on March 25
;

Filellin Day and International Solidarity in Greece on April 19
(Decree of the President of Greece 130/2008 on the feast day of George [Lord] Byron)