World Peace Day in Germany
World Peace Day in Germany is held on September 1. Since 1966. This event in the first decade of the month September is annual.
Help us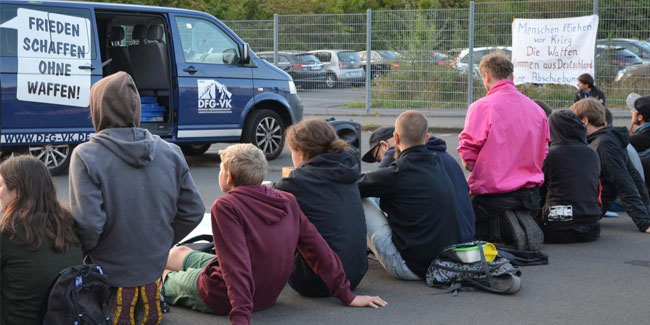 In Germany, the World Day of Peace is usually celebrated on September 1, because that is also the day on which Anti-War Day is celebrated to commemorate the start of World War II. Internationally, however, it is September 21 that is dedicated to world peace.
After the First World War, August 1 - in memory of the beginning of the war - was initially declared a day of peace by social democrats and trade unions. On September 1, 1939, the German Wehrmacht invaded neighboring Poland. Since the 1950s, September 1 was celebrated as Peace Day in the GDR.
In the Federal Republic, September 1 was first celebrated as Anti-War Day in 1957 by trade unions and peace initiatives.
The United Nations General Assembly, by resolution of November 30, 1981 (Resolution 36/67), designated the third Tuesday in September (the day of the opening of the General Assembly) as the "International Day of Peace."
Since 2001 (Resolution 55/282), the International Day of Peace has been observed by the United Nations on September 21 as an annual day of non-violence and cease-fire. In German, it is usually referred to as Weltfriedenstag (World Day of Peace), occasionally also as Anti-War Day.
In the Catholic Church, Pope Paul VI had called in 1967 to declare January 1 of each year as the World Day of Peace.
Similar holidays and events, festivals and interesting facts

Feast day of the Assumption of Mary on August 15
(Christian feast day, one of the Catholic holy days of obligation a public holiday in Austria, Belgium, Benin, Bosnia, Burundi, Cameroon, Chile, Colombia, Croatia, Cyprus, France, Germany, Greece, Guatemala, Hungary, Italy, Ivory Coast, Lebanon, Liechtenstein, Lithuania, Luxembourg, Macedonia, Madagascar, Malta, Mauritius, Monaco, Paraguay, Poland, Portugal, Romania, Senegal, Seychelles, Slovenia, Spain, Switzerland, Togo, and Vanuatu);

Day of the Homeland in Germany on September 1
(Tag der Heimat);

National Coffee Day in Germany on September 7
(Celebrated on the first Saturday in September);

Open Monument Day in Germany on September 8
(Held on the second Sunday in September);

Ecological and Social Market Economy Day in Germany on September 12
(since 2000);

Universal Children's Day in Germany on September 20
;

World Children's Day in Thuringia, Germany on September 20
(an official holiday since 2019)