Memorial Day on the tragedy of the Berlin Wall in Germany
Memorial Day on the tragedy of the Berlin Wall in Germany is held on August 13. Its construction was completed in 1961. This event in the second decade of the month August is annual.
Help us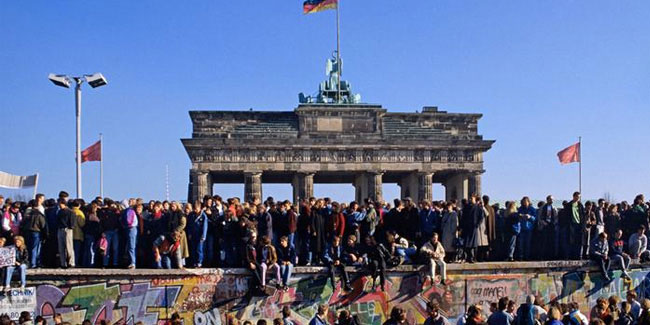 On August 13, 1961, at 1 a.m., under the supervision of units of the Border and People's Police and the National People's Army, the cordoning off of the more than 160 km long border between East Berlin and the GDR to West Berlin began. The eastern part was hermetically sealed off from the west by barbed wire, wooden barricades and anti-tank barriers. In the period that followed, a brick barrier was built: the Berlin Wall.
The wall was expanded in several steps to form a staggered and militarily secured restricted area. It finally consisted of front and rear walls, patrol lanes, control and protection strips, observation towers, signal fences and lighting systems.
With the construction of the wall, the GDR government tried to prevent the mass flight of the population and the imminent collapse of the economy.
More than 2.6 million people had fled the GDR between the founding of the GDR and August 1961. The regime's existential crisis was characterized by a lack of popular support and a permanent economy of shortages.
Similar holidays and events, festivals and interesting facts

Sons and Daughters Day in Germany on August 11
(The Der Tag der Söhne und Töchter a family holiday and a good time to spend time together);

Feast day of the Assumption of Mary on August 15
(Christian feast day, one of the Catholic holy days of obligation a public holiday in Austria, Belgium, Benin, Bosnia, Burundi, Cameroon, Chile, Colombia, Croatia, Cyprus, France, Germany, Greece, Guatemala, Hungary, Italy, Ivory Coast, Lebanon, Liechtenstein, Lithuania, Luxembourg, Macedonia, Madagascar, Malta, Mauritius, Monaco, Paraguay, Poland, Portugal, Romania, Senegal, Seychelles, Slovenia, Spain, Switzerland, Togo, and Vanuatu);

World Peace Day in Germany on September 1
(since 1966);

Day of the Homeland in Germany on September 1
(Tag der Heimat);

National Coffee Day in Germany on September 7
(Celebrated on the first Saturday in September);

Open Monument Day in Germany on September 8
(Held on the second Sunday in September);

Ecological and Social Market Economy Day in Germany on September 12
(since 2000)