James Ronald Webster Day in Anguilla
James Ronald Webster Day in Anguilla is held on March 2. This event in the first decade of the month March is annual.
Help us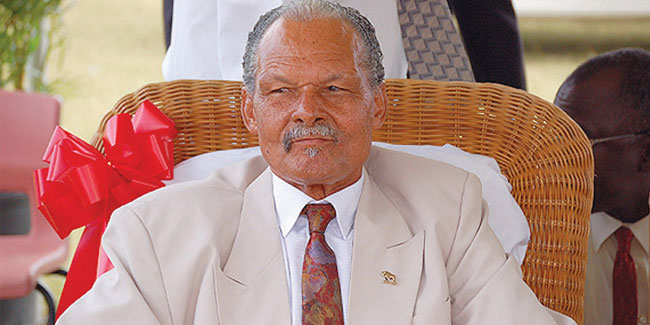 James Ronald Webster (2 March 1926 Ė 9 December 2016) was a politician from Anguilla. After ending the Saint Christopher-Nevis-Anguilla federation in 1967, he served as the island territory's first Chief Minister from 10 February 1976 to 1 February 1977 and again from May 1980 to 12 March 1984.
Webster was one of 8 children to survive infancy, out a family total of 16 children. He worked in a dairy farm-factory on Saint Martin for 27 years. The owner and wife treated him as a son and left Webster with their entire estate, a small fortune. Webster returned to Anguilla in 1960 to find the island without electricity, paved streets or telephones.
Prior to serving as Chief Minister, Webster was designated Chairman of the Anguilla Island Council when the territory declared its independence from the Saint Christopher-Nevis-Anguilla government in 1967, through the Anguillan Revolution which he led.
He wrote his "Farewell Letter" which is a motivating story of his life and times. This letter was read at his grave by his wife. English and translated version (Hindi) was published in the most read newspaper of Anguilla, The Anguillian.
Similar holidays and events, festivals and interesting facts

Boxing day in Australia on December 26
(also Anguilla, Antigua and Barbuda, Great Britain, New Zealand, Canada, Kiribati, Nauru, Botswana, Ghana, Jamaica);

Easter Monday on April 1
(Påskedag in Norway);

Motherís Day on May 12
(Anguilla, Antigua and Barbuda, Aruba, Australia, Austria, Bahamas, Bangladesh, Barbados, Belgium, Belize, Bermuda, Bhutan, Bonaire, Botswana, Brazil, Brunei, Canada, Cambodia, Cayman Islands, Central African Republic, Chad, Chile, China, Colombia, Congo, Dem. Rep., Congo, Rep., Cote d'Ivoire, Croatia, Cuba, Curaçao, Cyprus, Czech Republic, Denmark, Dominica, Ecuador, Equatorial Guinea, Estonia, Ethiopia, Faroe Islands, Fiji, Finland, Germany, Gabon, Gambia, Greenland, Ghana, Greece, Grenada, Guyana, Honduras, Hong Kong, Iceland, India, Italy, Jamaica, Japan, Kenya, Latvia, Liberia, Liechtenstein, Macau, Malaysia, Malta, Myanmar, Namibia, Netherlands, New Zealand, Pakistan, Papua New Guinea, Peru, Philippines, Puerto Rico, Saint Kitts and Nevis, Saint Lucia, Saint Vincent and the Grenadines, Samoa, Singapore, Sint Maarten, Slovakia, South Africa, Sri Lanka, Suriname, Switzerland, Taiwan, Tanzania, Tonga, Trinidad and Tobago, Turkey, Uganda, Ukraine, United States, Uruguay, Vietnam, Venezuela, Zambia, Zimbabwe);

Whit Monday on May 29
(celebrated on the day after Pentecost);

Anguilla Day on May 30
(commemorates the beginning of the Anguillian Revolution in 1967);

Celebration of the Birthday of His/Her Majesty the King/Queen's in Anguilla on June 12
(celebrated on Monday in the range between June 11 and 17);

August Thursday in Anguilla on August 3
(The Boat Race at Meads Bay Anguilla. Part of the Anguilla Summer Festival Celebrations. There will also be entertainment and food)