National Black Cat Day in US
National Black Cat Day in US is held on November 17. This event in the second decade of the month November is annual.
Help us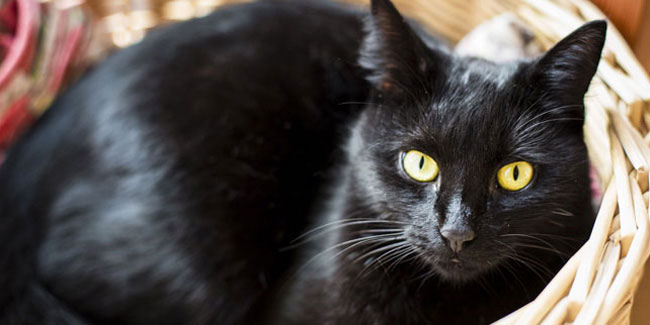 Ask people what they think of black cats, and youíll get various answers. They are mischievous and clever. They are bad luck and devious. They are sweet and lovable, and make the best furkids. One thing is for sure- these dark-coated felines are certainly misunderstood.
A black catís color all boils down to a genetic quirk. There are three variants of the black fur gene (solid black, brown, and cinnamon), and the hue works in conjunction with the pattern. If a cat has a solid black hue, but also the dominant tabby stripe gene, heavy exposure to the sun can make the eumelanin pigment in its fur break down to reveal its once-invisible stripes (another potential cause: nutritional deficiency). What was once a black cat is now a rusty brown cat.
National Black Cat Day was launched to show people that a black cat could be the perfect cat for them, and help raise awareness about black cats in general.
Similar holidays and events, festivals and interesting facts

National Cook for Your Pets Day in US on November 1
;

Cat Herders Day on December 15
(This is a day for everyone who has to face the frustration of trying to manage the unmanageable);

Happy Mew Year for Cats Day on January 2
(The founders, Tom and Ruth Roy, wanted cats to have a very special New Year's celebration all to themselves);

National Answer Your Cats Questions Day on January 22
;

Cat's Day in Poland on February 17
;

Cat Day in Japan on February 22
;

What If Cats and Dogs Had Opposable Thumbs Day on March 3