Professional Speakerís Day
Professional Speakerís Day is held on August 7. This event in the first decade of the month August is annual.
Help us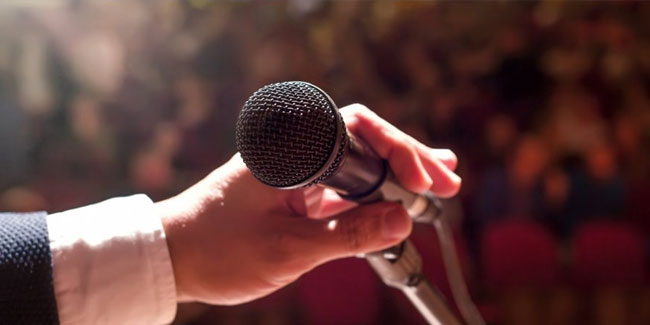 A great speaker is driven to know his stuff and care about a particular topic. His passion will cause others to be convinced, not just because of his force of reasoning, but also because he is visibly enjoying the beliefs he wants his audience to accept.
Public speakers motivate their listeners to make a change. It could be to stop or start something, try something new, or reach their goals. Public speaking is important because the speaker can motivate others to go in the direction they wish, and the speaker can motivate others to be their best selves.
Similar holidays and events, festivals and interesting facts

National Clown Day in USA on August 5
(Saturday of Clown Week);

Clown Day in Netherlands on August 5
(In Netherlands, they call it Internationale clown dag);

Clown Day in Italy on August 5
(In Italy, they call it Internazionale pagliaccio giorni);

Clown Day in Norway on August 5
(In Norway, they call it Internasjonal klovn dag);

Lighthouse Day on August 7
(day of workers of means of navigation equipment of the coast of large reservoirs in the form of a capital structure);

Zambia Farmers' Day on August 7
(celebrated on the first Monday of August);

Wakulima ya Nane Nane Day in Tanzania on August 8
(The local name of this holiday is Nane Nane, that in Swahili, the national language in Tanzania, means 'eight eight'. The day refers to the holiday's occurrence on the eighth day of the eighth month of the year.)