Teddy Bear Picnic Day
Teddy Bear Picnic Day is held on July 10. This event in the first decade of the month July is annual.
Help us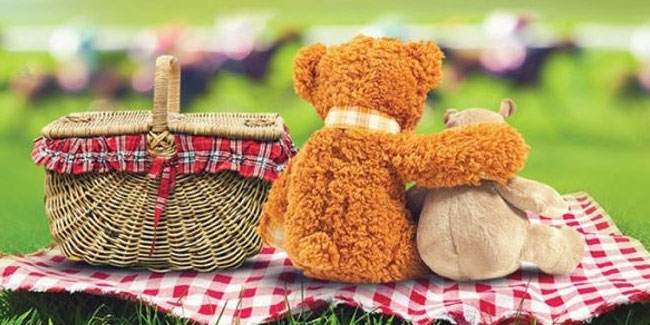 Teddy bears are one of the most adorable things to exist in this world. After the Titanic sank in 1912, German toy company Steiff created 500 teddy bears to honor the victims. The smallest commercially available stitched teddy bear is a mere 0.29 inches tall.
Teddy Bear got its name from the Late President Theodore Roosevelt after an incident where he refused to shoot a defenseless bear during a hunting trip.
Teddy Bear Picnic Day was created based on the popular song of the same name, "The Teddy Bears' Picnic". The song is a classic one, written to the tune of a song composed in 1907 by American John W. Bratton. The lyrics were added later, in 1930, by Jimmy Kennedy, a British songwriter.
Similar holidays and events, festivals and interesting facts

International Picnic Day on June 18
;

National Tailgating Day in US on September 7
(The 1st Saturday in September);

National Cherry Cheesecake Day and National Picnic Day in USA on April 23
;

International Town Criers Day on July 8
(Second Monday of July);

SCUD Day on July 8
(Savor the Comic, Unplug the Drama);

Body Painting Day on July 8
;

Don't Step on a Bee Day on July 10
;

Nieces and Nephews Day on July 10
;

Nikola Tesla Day on July 10
;

Cheer Up the Lonely Day on July 11