Build a Scarecrow Day
Build a Scarecrow Day is held on July 7. This event in the first decade of the month July is annual.
Help us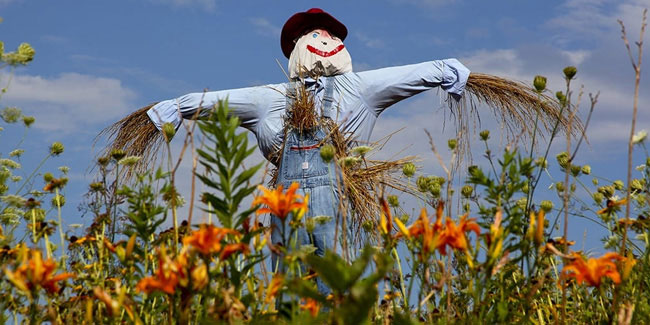 Scarecrows are a big hit in decorating during the fall, and are associated with harvest scenes. But, scarecrows are built to stand out in the garden to scare crows and other birds away.
About 2,500 B.C., Greek farmers carved wooden scarecrows in the image of Priapus, the son of Dionysus and Aphrodite, creating a "scarecrow" that was supposedly ugly enough to scare the birds away from their vineyards, ensuring a good harvest.
Many pesky birds are precocious of changes in their environment. Because of this, they are immediately wary of a scarecrows first appearance. After awhile, they adapt and understand the scarecrow is not an actual threat.
Similar holidays and events, festivals and interesting facts

Umbrella Cover Day on July 6
;

Take Your Webmaster To Lunch Day on July 6
;

International Stolen Kiss Day on July 6
;

Comic Sans Day on July 7
(Comic Sans MS is a sans-serif casual script typeface designed by Vincent Connare and released in 1994 by Microsoft Corporation);

Tell The Truth Day on July 7
;

SCUD Day on July 8
(Savor the Comic, Unplug the Drama);

Body Painting Day on July 8