Frog Jumping Day
Frog Jumping Day is held on May 13. This event in the second decade of the month May is annual.
Help us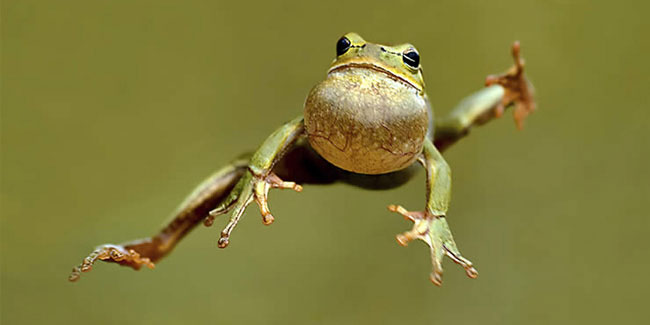 Not all frog species can jump. Frogs with shorter legs walk, crawl, or only hop short distances. Most toads are better at walking or hopping than jumping. Many frogs can jump more than 20 times their body length.
Originally published in the New York Saturday Press in 1865 under the title 'Jim Smiley and His Jumping Frog', Mark Twain's short story 'The Celebrated Jumping Frog of Calaveras County' was one of his earliest pieces of writing and is probably his best-known short fiction.
Similar holidays and events, festivals and interesting facts

Limerick Day on May 12
(celebrates the birthday of Writer Edward Lear: 1812-1888. Limericks were popularized by Lear in 1846 in his Book of Nonsense);

Odometer Day on May 12
(The odometer was invented by William Clayton in 1847);

Cat Parade or Kattenstoet in Belgium on May 12
(Held on the second Sunday in May);

Leprechaun Day on May 13
;

Top Gun Day on May 13
;

Chicken Dance Day on May 14
("Der Ententanz" was the name of the song that inspired all of this, and while the dance has come to be called "The Chicken Dance", the song itself is called The Duck Dance);

Nylon Stockings Day on May 15
;

Straw Hat Day on May 15