National Joe Day in US
National Joe Day in US is held on March 27. This event in the third decade of the month March is annual.
Help us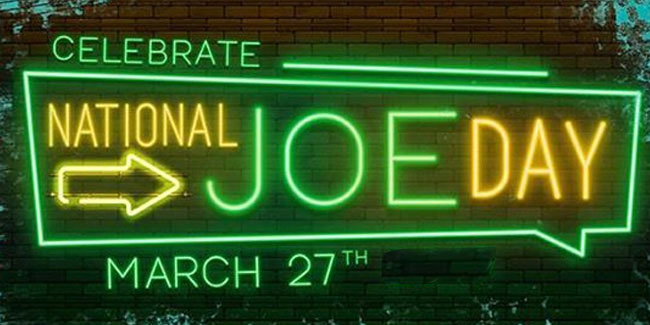 National Joe Day is an unofficial, obscure yet fun holiday to celebrate each year on March 27. The term comes from the Scottish word "joe," meaning "sweetheart," but has evolved to refer to the working-class everyman. As terms like "average Joe" and "ordinary Joe" came into the vernacular, a Joe came to be known as a regular guy or sometimes the underdog. Take time to celebrate the Joes of the world and have a little fun doing so.
Though names of individuals remain fixed in the western world, according to the native American custom a person changed his or her name throughout various stages of their life, a practice that continues in.
Similar holidays and events, festivals and interesting facts

Make Up Your Own Holiday Day on March 26
;

Quirky Country Music Song Titles Day on March 27
;

Weed Appreciation Day on March 28
;

Something on a Stick Day on March 28
;

Smoke and Mirrors Day or Magician Day on March 29
;

Niagara Falls Runs Dry Day on March 29
;

Pencil Day on March 30
;

I am in Control Day on March 30
;

Take a Walk in the Park Day on March 30