Donor Day or Organ Donor Day
Donor Day or Organ Donor Day is held on February 14. This event in the second decade of the month February is annual.
Help us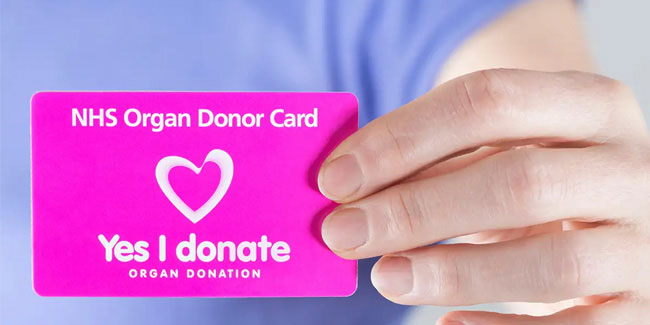 Organ Donor Day raises awareness of organ, eye, tissue, marrow, platelet, and blood donation.
Just 1 donation can save up to 3 lives. Annually around 112.5 million units of donated blood are collected globally. Approximately around 13.6 million units of whole blood and red blood cells are collected and nearly 21 million units of blood components are transfused in the United States every year. The average red blood cell transfusion is 3 pints (or 3 whole-blood donations). More than 38,000 blood donations are needed every day.
One person can save eight lives and enhance 75 others through organ, eye and tissue donation. Nearly 114,000 Americans are currently waiting for an organ transplant, nearly 22,000 live in California. An organ transplant is their only remaining medical option.
In 1954, the kidney was the first human organ to be transplanted successfully. Liver, heart and pancreas transplants were successfully performed by the late 1960s, while lung and intestinal organ transplant procedures were begun in the 1980s.
Similar holidays and events, festivals and interesting facts

Get a Different Name Day on February 13
;

Madly In Love With Me Day on February 13
;

Epilepsy Day in Poland on February 14
(It was launched on 14th 2009 in the form of an event in Warsaw);

International Heart Awareness Day on February 14
;

Ferris Wheel Day on February 14
;

Operating Nurse International Day on February 15
(since 2009);

Hippo Day on February 15