No Homework Day
No Homework Day is held on May 6. This is the day where children can tell their teachers and parents in complete honesty that they will not be doing their homework, in order to mark this special day. This event in the first decade of the month May is annual.
Help us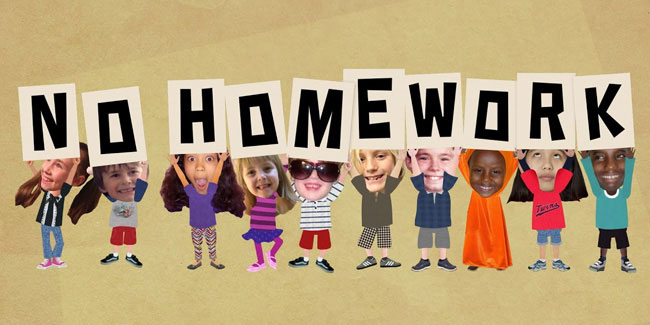 Homework leaves less time for children to be children. Most academics agree that busy work does little to increase learning. It is best to not assign packets of worksheets if they do nothing to add to student learning. You also don't want to waste valuable time grading meaningless paperwork. Some studies show that much homework may actually decline achievement.
A study by Stanford University found that 56% of students see homework as their primary source of stress. Many students develop somatic symptoms, mainly headaches, when they get too much homework to do. They feel pressured by their teachers and parents to do this homework.
Kids need to get outside and play more often so they can grow and develop, but homework is holding them back from this. Homework also takes time away from children's sleep, which in turn reduces the productivity of their next school day.
Similar holidays and events, festivals and interesting facts

Cartoonists Day on May 5
(They were the favorite part of the morning paper for many of us growing up);

World Laughter Day on May 5
(was created in 1998 by Dr. Madan Kataria, founder of th worldwide Laughter Yoga movemen);

Cinco de Meow Day on May 5
;

5.25" Floppy Day on May 5
(#525FloppyDay);

Coloring Day on May 6
;

No Socks Day on May 8
;

Iris Day on May 8
;

White Lotus Day on May 8
(Theosophy)