Record Store Day
Record Store Day is held on April 20. This event in the second decade of the month April is annual.
Help us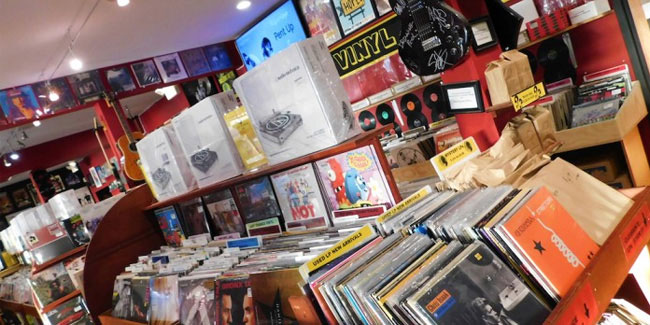 Record Store Day was conceived in 2007 at a gathering of independent record store owners and employees as a way to celebrate and spread the word about the unique culture surrounding nearly 1400 independently owned record stores in the US and thousands of similar stores internationally. The first Record Store Day took place on April 19, 2008. Today there are Record Store Day participating stores on every continent except Antarctica. Throughout its more years, cities across the United States, including New York City, Los Angeles, Boise, Charleston, Raleigh and Las Vegas have declared Record Store Day an official holiday.
Established in 1894, the Spillers Records recognised as the oldest record store in the world. Other shops celebrating the Record Store Day UK include Banquet Records in Kingston-Upon-Thames, Defend Vinyl in Liverpool, Monorail Music in Glasgow and Piccadilly Records in Manchester.
For several years, 60% or more of the Record Store Day Official Release List came from independent labels and distributors. Even during a pandemic, record stores proved essential to their community.
Similar holidays and events, festivals and interesting facts

Barbershop Quartet Day on April 11
(On April 11, 1938 the Society for the Preservation and Encouragement of Barbershop Quartet Singing in America was founded in Tulsa, Oklahoma);

Eight Track Tape Day on April 11
(It's origin likely hails from the sixties and seventies);

National Choro Day in Brazil on April 23
(Dia Nacional do Choro);

Vallenato Legend Festival in Colombia on April 30
(Festival de la Leyenda Vallenata);

Rasta/Bob Marley Day on May 11
;

Chicken Dance Day on May 14
("Der Ententanz" was the name of the song that inspired all of this, and while the dance has come to be called "The Chicken Dance", the song itself is called The Duck Dance);

B. B. King Day on May 14