Kickball Day
Kickball Day is held on April 17. This event in the second decade of the month April is annual.
Help us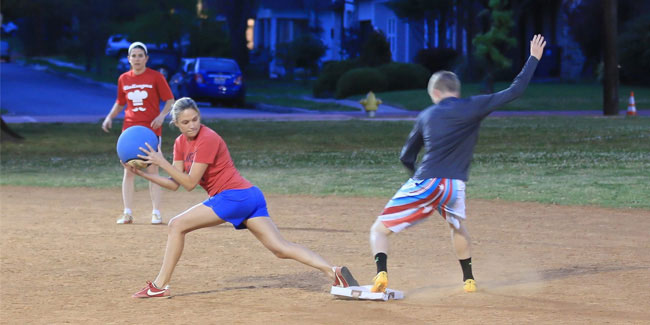 Kickball is a fun for all ages variation on the game of baseball. In fact, it was originally named "Kick Baseball" and was invented as early as 1917 by Nicholas C Seuss, Supervisor of Cincinnati Park Playgrounds of Cincinnati, Ohio. Around 1920–1921, "kick ball" was used by physical education teachers in public schools to teach young boys and girls the basics of baseball.
Opposing teams face off on a diamond-shaped playing field with three bases plus a home plate. The fielding team's pitcher throws an inflated rubber ball to the kicking team's players, who try to kick the ball then advance around the bases. A fielder can get a runner out by reaching a base first with the ball in hand, or by throwing the ball directly at the runner and hitting him with it. The runner may not catch or touch the ball. Just as in baseball, a pitch may be a strike or a ball; a kick may be fair or foul; three strikes make an out; and three outs mean the kicking team must take to the field on defense.
Similar holidays and events, festivals and interesting facts

Jackie Robinson Day on April 15
(United States);

East Meets West Day on April 25
(Many kinds of sports team hold annual East vs. West games);

Football Day in Kazakhstan on April 25
;

National Physical Education and Sport Week in USA on May 1
;

International Supporters' Day on May 8
;

Global Move for Health Day on May 10
;

World Nordic Walking Day on May 18
(is a day of unified commemoration of the Nordic Walking Family around the world. It is for everyone, of all ages and abilities);

Learn To Swim Day on May 18