The Day the Music Died
The Day the Music Died is held on February 3. On February 3, 1959, American rock and roll musicians Buddy Holly, Ritchie Valens, and "The Big Bopper" J. P. Richardson were killed in a plane crash near Clear Lake, Iowa, together with pilot Roger Peterson. This event in the first decade of the month February is annual.
Help us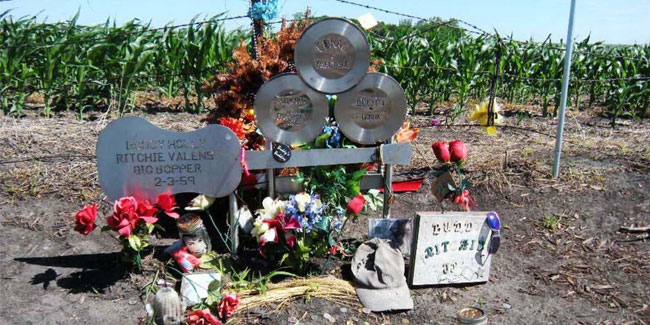 Investigators blamed the crash on bad weather and pilot error.
On Feb. 3, 1959, Buddy Holly of Lubbock, J.P. "Big Bopper" Richardson of Beaumont and Ritchie Valens of California, along with their pilot, were killed in the crash of a small charter plane in Clear Lake, Iowa. The event later became known as "The Day the Music Died" after singer-songwriter Don McLean referred to it as such in his 1971 song "American Pie".
After stopping at Clear Lake to perform, and frustrated by the conditions on the tour buses, Holly chose to charter a plane to reach their next venue in Moorhead, Minnesota. Richardson, suffering from flu, swapped places with Jennings, taking his seat on the plane, while Allsup lost his seat to Valens on a coin toss. Soon after takeoff, late at night and in poor, wintry weather conditions, the pilot lost control of the light aircraft, a Beechcraft Bonanza, which subsequently crashed into a cornfield, killing all four on board.
Similar holidays and events, festivals and interesting facts

World Play Your Ukulele Day on February 2
;

Bob Marley Day in Jamaica on February 6
;

Ice Music Festival in Finse, Norway on February 7
(They claim to be "the coolest outdoor experience" — and they're probably right);

Opera Day on February 8
;

Musikahan Festival on February 21
(Tagum City, the Philippines);

Dancer Day in Argentina on February 28
;

National Music in Our Schools Month in USA on March 1