Talk Like A Grizzled Prospector Day
Talk Like A Grizzled Prospector Day is held on January 24. This event in the third decade of the month January is annual.
Help us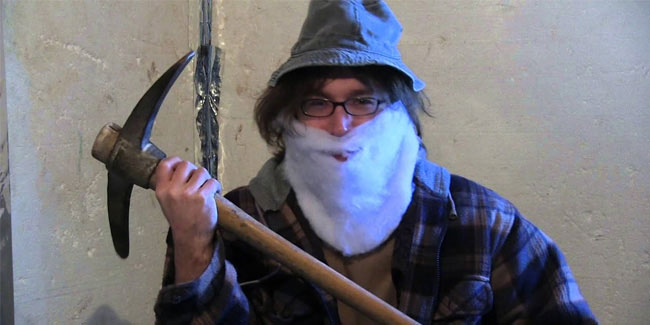 Today is one of those silly holidays we all love. On January 24, 1848, James Marshall discovered gold while building a sawmill for John Sutter in Coloma, California.
John Augustus Sutter (February 23, 1803 – June 18, 1880), born Johann August Sutter and known in Spanish as Don Juan Sutter, was a Swiss immigrant of Mexican and American citizenship, known for establishing Sutter's Fort in the area that would eventually become Sacramento, California, the state's capital. Although he became famous following the discovery of gold by his employee James W. Marshall and the mill-making team at Sutter's Mill, Sutter saw his own business ventures fail during the California Gold Rush.
In the American miner's slang to arrive at the bed-rock means to have spent the last dollar.
John Huston's gold-fever classic, The Treasure of the Sierra Madre (1948), is the perfect viewing choice for this holiday, particularly for Walter Huston's performance as the stereotypical grizzled prospector. In what many critics call his best film, John Huston crafts a story about the effects of greed on the human spirit and directs his father, Walter Huston, in a role that has become the model for the grizzled prospector stereotype ever since.
Similar holidays and events, festivals and interesting facts

Handwriting Day on January 23
(The day was basically started by the Writing Instrument Manufacturers Association in 1977);

Measure Your Feet Day on January 23
;

Beer Can Appreciation Day on January 24
(This tradition was first started in 1935, and on the heels of it came a never ending parade of varieties of labelling);

Global Belly Laugh Day on January 24
;

Compliment Day on January 24
;

A Room Of One's Own Day on January 25
;

Burns Night on January 25
(Scotland and Scottish community);

Opposite Day on January 25
(is particularly popular among children, who enjoy the kind of absurdity that can happen when everything you say is backwards);

Visit Your Local Quilt Shop Day on January 25