Cable Car Day
Cable Car Day is held on January 17. In early 1871 British-born, US resident Andrew Smith Hallidie received the first patent in relation to the cable car. This event in the second decade of the month January is annual.
Help us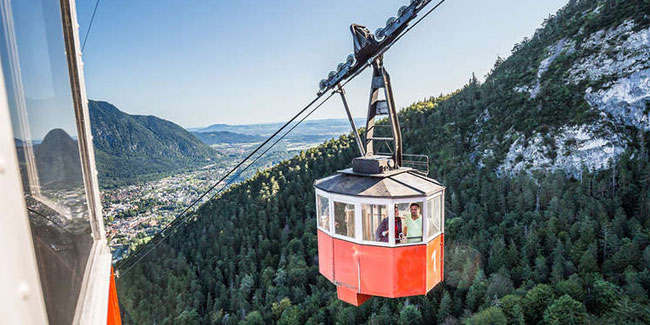 A cable car is a type of cable railway used for mass transit in which rail cars are hauled by a continuously moving cable running at a constant speed. Individual cars stop and start by releasing and gripping this cable as required. According to the Cable Car Museum, cars running these days keep a cruising speed of 9.5 miles per hour, be it uphill or downhill.
Cable cars were invented by Andrew Smith Hallidie here in San Francisco in 1871. Hallidie's cable car system was based on early mining conveyance systems and dominated the city's transit scene for more than 30 years.
They are often used in mountainous areas where cable haulage can overcome large differences in elevation. China's Tianmen Shan cable car is the longest cable car ride in the world, covering a distance of 7,455 meters. The car runs from Zhangjiajie downtown up to Tianmen Shan, which translates as "Heaven's Gate Mountain."
Similar holidays and events, festivals and interesting facts

Appreciate A Dragon Day on January 16
;

Nothing Day on January 16
(This day was first practiced way back in 1973 by newspaperman Harold Pullman Coffin. The goal of the day is "to provide Americans with one national day where they can just sit without celebrating, observing, or honoring anything.");

Ditch New Year's Resolutions Day on January 17
;

Museum Selfie Day on January 17
(Held on the third Wednesday of January);

Thesaurus Day on January 18
(It is celebrated every year on January 18th, which is the birthday of the author of Roget's Thesaurus, Peter Roget. Peter Roget was born on January 18th in 1779);

Winnie the Pooh Day on January 18
(This day was created to celebrate the birth of A.A .Milne in 1882);

Tin Can Day on January 19
(Peter Durand patented the tin can in 1810);

Festival Internazionale del circo di Montecarlo on January 19
(Usually held in December)