National Champagne Day in USA
National Champagne Day in USA is held on December 31. This event in the third decade of the month December is annual.
Help us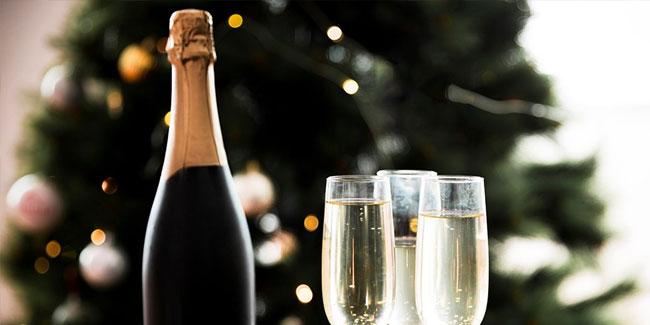 Not all sparkling wine can be called Champagne. Champagne is the coldest wine growing region in France. The first Champagnes were known as the 'devil's wine'. The 21st of October is World Champagne Day and there's no better time to learn all about champagne!
A bottle of champagne has around 49 million bubbles! Champagne is actually a type of wine. The chalky remains of ancient sea-creatures are the "soil" for Champagne grapes.
The origin and the founder of the National Champagne Day are unknown. The founder must have been busy partying and forgot to leave his name!
You too can be part of it: take a moment to celebrate small moments in life this Champagne Day. Join a planned event in a restaurant, enjoy a Champagne food & wine pairing with close friends, families or colleagues, or simply share a glass of Champagne with the one you love.
Similar holidays and events, festivals and interesting facts

National Sangria Day in USA on December 20
;

International Furmint Day on February 1
(Official hashtag:#FurmintDay);

National "Drink Wine" Day in USA on February 18
;

Global Drink Wine Day on February 18
(So why should this only be a day that is celebrated in the USA?);

Open "That Bottle" Night - Open That Bottle Night on February 24
(A comic holiday is celebrated on the last Saturday of February);

National Cold Cuts Day, Mulled Wine Day and National Moscow Mule Day in USA on March 3
;

World Riesling Day on March 13
(The First Annual Riesling Birthday was celebrated in 2019)