National Pâté Day and National Vinegar Day in USA
National Pâté Day and National Vinegar Day in USA is held on November 1. This event in the first decade of the month November is annual.
Help us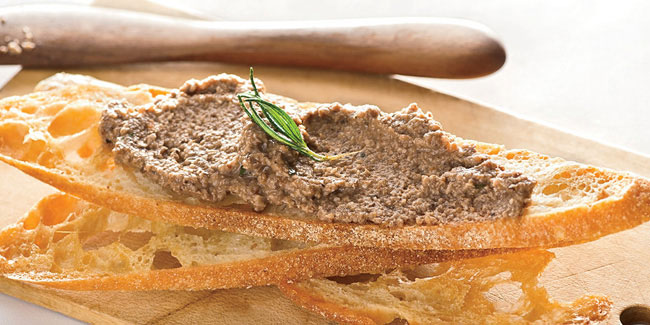 Pâté is often made of pig meat and parts, but wild game like snipe, partridge, venison or wild boar can be cooked into a pâté, as can farm-raised duck, rabbit or pheasant. Even vegetables can be made into pâté. Lean meats might require the addition of some pork fat to keep the pâté from drying out in the oven. Traditionally made with liver, and mixed with wine and spices until it's cooked down into a spreadable texture, pâté can also be created with liver or other parts of pork, venison, chicken, fish, duck and other game, and even created with veggies on occasion.
Vinegar is a liquid consisting mainly of acetic acid and water. The acetic acid is produced by the fermentation of ethanol byacetic acid bacteria. Vinegar is now mainly used as a cooking ingredient. The name vinegar comes to us from the French, "vin aigre," literally meaning sour wine. On National Vinegar Day on November 1, celebrate the tangy, fermented concoction with the best recipes, trivia, and facts.
Similar holidays and events, festivals and interesting facts

National Caramel Apple Day and Candy Apple Day in USA on October 31
;

Rakfisk Festival in Fagernes, Norway on October 31
(The Norwegian Rakfisk Festival in Fagernes is all about a semi-fermented trout called rakfisk, that has a unique flavor thanks to its long fermenting process);

International Rice Day on October 31
;

National Cook for Your Pets Day in US on November 1
;

International Xinomavro Day on November 1
;

National Eating Healthy Day in USA on November 1
;

National French Fried Clam Day in USA on November 1
;

National Sushi Day in USA on November 1
;

National Deviled Egg Day in USA on November 2
;

Men Make Dinner Day on November 2
(celebrated on the first Thursday of November)