National Cheese Pizza Day in USA
National Cheese Pizza Day in USA is held on September 5. This event in the first decade of the month September is annual.
Help us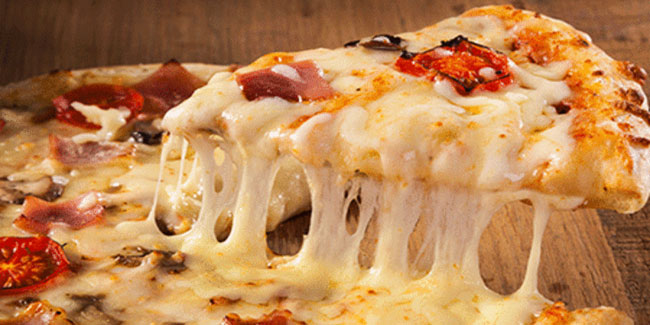 Unfortunately, no one is really sure who started National Cheese Pizza Day. $40 billion – The size of the pizza industry in the U.S. 46 – Slices of pizza eaten each year by the average person. 6,600 – Pizzerias in California, more than any other state. 93% – Americans who will eat pizza at least once in the next 30 days.
Pizza nutrition fact — a slice of cheese pizza gives you 45.8% of the selenium, 39.8% of the riboflavin, 31.1% of the phosphorus, 29.2% of the thiamin, 24% of the folate, 23.8% of the vitamin B-12, 21.1% of the niacin, 14% of the calcium, 12.8% of the zinc, and 12.2% of iron recommended by the Institute of Medicine's Food and Nutrition board.
Pizza nutrition fact — eating pizza regularly reduces the risk of esophageal cancer by 59%, reduces the risk of oral cavity and pharyngeal cancer by 34%, and reduces the risk of colon cancer by 25% — the lycopene in the tomato sauce is an antioxidant that can lower the risk of cancer, when pizza is a part of a healthy diet and lifestyle.
Similar holidays and events, festivals and interesting facts

National Macadamia Nut Day on September 4
(United States);

Finnish Food Day on September 4
(Finländska matens dag);

National Wine Day in Chile on September 4
;

National Coffee Ice Cream Day on September 6
(United States);

National Beer Lover's Day, National Acorn Squash Day and National Salami Day in United States on September 7
;

National Date-Nut Bread Day in United States on September 8
;

National Coffee Day in Costa Rica on September 8