Raspberries and Cream Day in USA
Raspberries and Cream Day in USA is held on August 7. This event in the first decade of the month August is annual.
Help us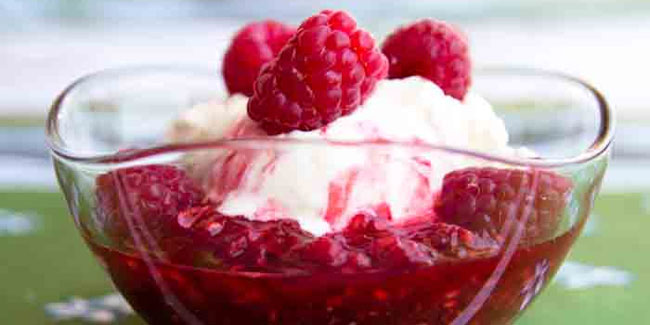 August is a raspberry month! In the northern hemisphere, the summer is at its peak as well as raspberry season. Letís celebrate this wonderful time with a bowl of raspberries and cream - the time-honored dessert tradition of serving fresh fruit in heavy, delicious cream, that goes back to some of the first agricultural communities in the world.
The earliest print mention for a Raspberries and Cream Day in August dates from 1983 in Florida:
ďNo doubt intended for the portly and proud of it is the Ď1984 Calendar of Self-Indulgenceí, which features cartoons and food holidays. Owners of this calendar, for example, will be pleased to learn that the week of Aug. 5-11 not only features National Waffle Day and National Root Beer Float Day, but National Raspberries-And-Cream, Frozen Custard, Rice Pudding, SíMores and Raspberry-Bombe days as well.Ē ó Judds, Ann. 1984. A new year requires a new calendar. Tallahassee, Florida: Tallahassee Democrat. Wednesday, 28 December 1983. Page 2C, col. 3.
This day is also a good opportunity to support your local agricultural boards. But if you live in the southern hemisphere where at this time of year you canít find any local raspberries, you could buy some imported ones. The taste is often still very nice. You could also make a sweetened purée from frozen raspberries (the more canny amongst us are already thinking, no doubt, that we can just use raspberry jam instead ó the kids wonít know the difference) and fold that into a whipped cream or custard concoction.
Obviously, thanks to modern farming techniques, raspberries can be enjoyed year-round, but letís not let that ruin our annual tradition and celebrate this holiday on the 7th of August!
Make sure to use the hashtag #RaspberriesNCreamDay when showing friends pictures of your dessert creations.
Similar holidays and events, festivals and interesting facts

National Root Beer Float Day in USA on August 6
;

Ham Day in Japan on August 6
(Hamu No Hi);

Peruvian Nutritionist's Day on August 6
;

National Frozen Custard Day and National Zucchini Day in USA on August 8
;

Chocolate Day in Chile on August 8
(Día del Chocolate);

National Rice Pudding Day in USA on August 9
;

National Símores Day in USA on August 10