National Hot Dog Day in USA
National Hot Dog Day in USA is held on July 19. While itís unclear exactly when the hot dog was invented, many people attribute it to sausages developed during the 13th century in Germany. This event in the second decade of the month July is annual.
Help us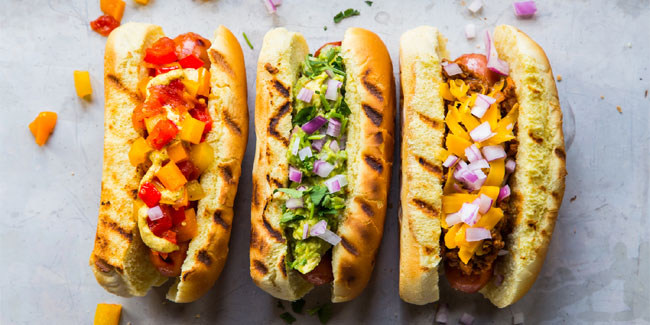 Americans love hot dogs so much that the month of July is all about celebrating this fast food treat, culminating in Hot Dog Day on the third Wednesday of July. The humble hot dog is an integral part of US culture, and itís hugely popular, with hot dog carts on street corners, people chowing down at sporting events, and making their own at backyard barbecues.
A Hot Dog is not a sandwich. The popular restaurant chain Carlís Jr started as a hot dog cart on July 17, 1941 in Los Angeles. Soviet Premier Nikita Khrushchev ate a hot dog during the first visit of a Soviet Premier to the US in 1959 and admitted that Americans had the Soviets beat at sausage making. Frankfurt, Germany claims to be the originator of the hot dog and celebrated the hot dogís 500th birthday in 1987.
Similar holidays and events, festivals and interesting facts

Hot Dog Day on July 18
(United States, Canada, Great Britain and Australia. It has been celebrated since 1971, when students first proposed it. Hot Dog Day itself is usually the third Saturday in April, although many students celebrate the entire "hot dog week", running from that Wednesday to that Sunday. July 18 Ė based on when the North American Meat Institute hosts its annual Hot Dog Lunch on Capitol Hill.);

National Caviar Day in USA on July 18
;

National Daiquiri Day in USA on July 19
;

Exposicion Rural Argentina or La Exposicion Rural on July 19
;

International Cake Day on July 20
;

National Lollipop Day and Fortune Cookie Day in USA on July 20
;

National Junk Food Day and National Ice Cream Day in USA on July 21
;

International Day of Junk Food on July 21
;

International Lamington Day on July 21
;

No Pet Store Puppies Day on July 21
;

National Craft for Your Local Shelters Day in USA on July 21
;

Dog Day in Latin America on July 21