National Daiquiri Day in USA
National Daiquiri Day in USA is held on July 19. This event in the second decade of the month July is annual.
Help us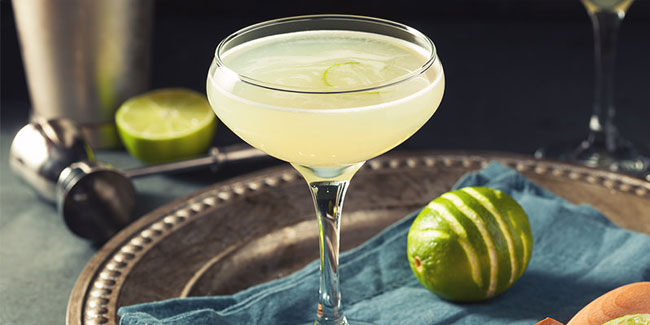 It is one of the six basic drinks listed in David A. Embury's classic – The Fine Art of Mixing Drinks. The daiquiri became popular in the 1940's because wartime rationing made whiskey, vodka, etc., hard to come by. The drink even became a favorite of author Ernest Hemingway. The drink was supposedly invented by an American mining engineer, named Jennings Cox, who was in Cuba at the time of the Spanish–American War.
A popular variation of the drink is the "Hemingway Daiquiri" or "papa doble" (papa being affectionate name of Hemingway) – two half jiggers of white, juice of two lemons and half a grapefruit, six drops of maraschino liquer, without sugar.
Similar holidays and events, festivals and interesting facts

Hot Dog Day on July 18
(United States, Canada, Great Britain and Australia. It has been celebrated since 1971, when students first proposed it. Hot Dog Day itself is usually the third Saturday in April, although many students celebrate the entire "hot dog week", running from that Wednesday to that Sunday. July 18 – based on when the North American Meat Institute hosts its annual Hot Dog Lunch on Capitol Hill.);

National Caviar Day in USA on July 18
;

National Hot Dog Day in USA on July 19
(While it's unclear exactly when the hot dog was invented, many people attribute it to sausages developed during the 13th century in Germany);

Exposicion Rural Argentina or La Exposicion Rural on July 19
;

International Cake Day on July 20
;

National Lollipop Day and Fortune Cookie Day in USA on July 20
;

National Junk Food Day and National Ice Cream Day in USA on July 21
;

International Day of Junk Food on July 21
;

International Lamington Day on July 21