National Sugar Cookie Day in USA
National Sugar Cookie Day in USA is held on July 9. This event in the first decade of the month July is annual.
Help us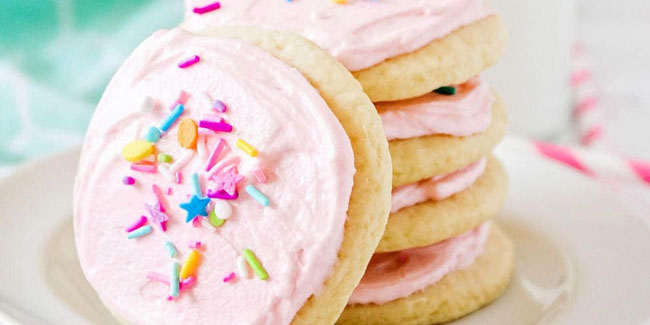 The modern sugar cookie was originally called the Nazareth Sugar Cookie, after German Protestants who settled in Nazareth, Pennsylvania, and improved the recipe. When forming the dough, they made the cookies resemble the state's keystone emblem.
A sugar cookie is a cookie with the main ingredients being sugar, flour, butter, eggs, vanilla, and either baking powder or baking soda (depending on the type of sugar used). Sugar cookies may be formed by hand, dropped, or rolled and cut into shapes.
The average American will eat 35,000 cookies in their lifetime. The world's largest chocolate chip cookie weighed in at more than 40,000 pounds! This cookie was 102-feet-wide and was baked by the Immaculate Baking Company in Flat Rock, North Carolina in 2003.
Similar holidays and events, festivals and interesting facts

National Chocolate with Almonds Day and National Ice Cream Sundae Day in USA on July 8
;

Natto Day in Japan on July 10
(Natto - Japanese food made from fermented soybeans);

National Pina Colada Day and 'Pick Blueberries' Day in USA on July 10
;

Pizza Day in Brazil on July 10
;

Free Slurpee Day on July 11
(Participating stores of the 7-Eleven chain in North America);

National Blueberry Muffin Day and National Mojito Day in USA on July 11
;

International Chocolate Day on July 11
;

Baker's Day in Acambaro, Guanajuato, Mexico on July 11