National Chocolate Truffle Day in USA
National Chocolate Truffle Day in USA is held on May 2. This event in the first decade of the month May is annual.
Help us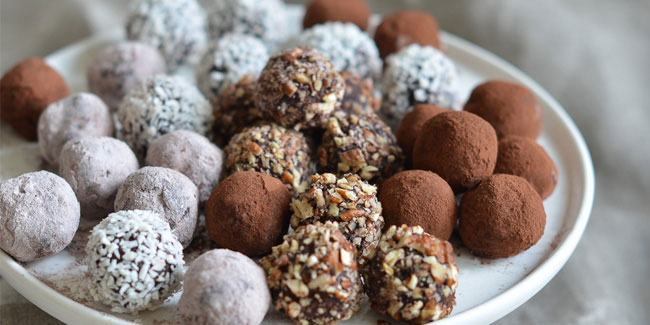 You'd probably be forgiven for thinking that truffles are just a specific type of chocolate treat! Chocolate truffles were first created in France in 1895. The original chocolate truffles were a ball of chocolate ganache that was dusted with cocoa powder. These delicacies looked somewhat like the real dark, bumpy, mushroom-style fungi truffles, hence, this is how chocolate truffles got their name.
While there's a clear difference between natural truffles and chocolate truffles, Fritz Knipschildt decided to blend the two. The chocolatier's $250 truffle – it's seriously that expensive – coats a Périgord truffle in 70% dark chocolate, oil, sugar and cream.
Similar holidays and events, festivals and interesting facts

International Sunflower Guerrilla Gardening Day on May 1
;

National Chocolate Parfait Day in USA on May 1
;

National Banana Day in Australia on May 1
;

National Raspberry Popover Day and National Chocolate Custard Day in USA on May 3
;

School Lunch Hero Day in USA on May 3
(Between preparing healthy meals for America's students, adhering to strict nutrition standards, navigating student food allergies, and offering service with a smile, school nutrition professionals are true heroes);

International Sauvignon Blanc Day on May 3
(The First Annual Sauvignon Blanc Day was celebrated in 2009. Celebrated always on the first Friday in May);

World Give Day on May 4
(is one day a year when people all over the world come together to support the causes they care about most. Whether you donate to your favorite non-profit, a person in your community, or give some of your time, World Give Day is a day to focus on giving back);

National Candied Orange Peel Day in USA on May 4