National Carrot Cake Day in USA
National Carrot Cake Day in USA is held on February 3. This event in the first decade of the month february is annual.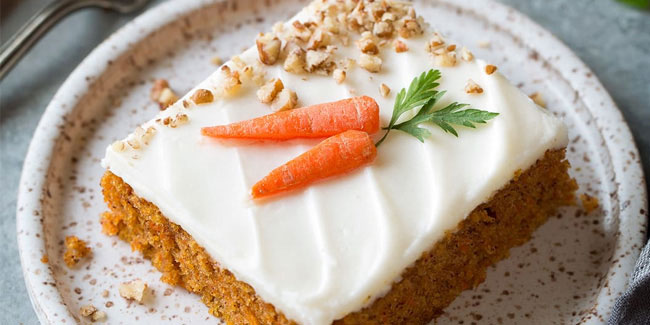 You can make this carrot cake quickly and easily without lots of fancy equipment.
Eggs give the cake structure.
Salt, cinnamon, and vanilla extract make the cake taste amazing.
Oil keeps the carrot cake ultra moist — any neutral flavored oil will work.
Sugar makes the cake moist, light, and delicious.
Lots of carrots make this the best carrot cake.
Similar events

National Tater Tot Day in USA on February 2
;

Crepe Day on February 2
;

Marmot Day in Alaska on February 2
;

National Women Physicians Day in US on February 3
(is celebrated annually on the birthday of Elizabeth Blackwell, the first female clinician in the United States);

National Homemade Soup Day and National Stuffed Mushroom Day in USA on February 4
;

Thank a Mailman Day or Mail Carrier Day in USA on February 4
;

National Frozen Yogurt Day and Chocolate Fondue Day in USA on February 5
;

National Weatherman's Day in US on February 5
;

National Wear Red Day in United States on February 5
(celebrated on the first Friday in February)